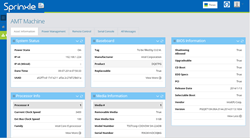 Newport Beach, CA (PRWEB) July 10, 2014
Users can now be automatically notified of new devices, import, activate and manage the Intel® vPro™ devices on their network - regardless of OS or power state.
"Sprinxle provides companies with a simple web console, as well as the support, to unleash the power of their vPro technology," said Ali Khan, Partner at Sprinxle. "What sets Sprinxle apart is that our console takes remote and out-of-band management to the hardware layer and lets IT managers take advantage of the features that make Intel vPro and Intel Core M vPro technology so compelling in the first place."
The Sprinxle Management Console is based on HTML 5 responsive design technology, which means clients can manage from anywhere in the world using the web-based console from any Tablet, Smartphone or other Form Factor of preference.
Key features of the Sprinxle Management Console include:

vPro Technology Activation
Intel SCS Integration
Auto - Provisioning of compatible vPro devices
Auto - Import of all vPro devices
IDE Redirect from Desktop, Laptop, Table and Mobile
Hardware-based Remote KVM
Hardware-based Bare Metal Imaging
Hardware-based Power Management
Asset Management
Serial-Over-LAN Remediation
Sprinxle also provides access to their Intel® experts through Email Chat, Remote Control Support Sessions and a comprehensive knowledge base which is all included with the Sprinxle Subscription.
For more information about how to unleash the power of Intel® vPro™ and Intel® Core™ M vPro™ technology using the Sprinxle Web Management Console, please visit http://www.sprinxle.com or contact us at: sales(at)sprinxle(dot)com.
About Sprinxle
Sprinxle is a Certified Technology Provider of Intel ® software and services. Based in Newport Beach, CA and with partners worldwide, Sprinxle is dedicated to the success of its clients by providing easy to use Apps and Intelligent Support to maximize the value that customers can achieve using Intel® technology. For additional information, please visit http://www.sprinxle.com.