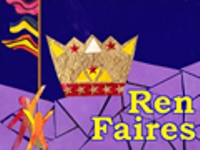 For families the best part of any Ren faire experience is imagining together about another time and a place.
Tampa, Florida (PRWEB) July 14, 2014
For families, the best part of any Ren faire experience is imagining together about another time and a place. The best Ren faires for families create a 16th century time capsule where royalty reigns and jousts are the order of the day. A place where bards, jesters, puppeteers, falconers, magicians and fairy folk mingle with gallant knights, beautiful princesses, and an occasion dastardly dragon.
"Educators agree, children learn best by seeing and doing. The best Renaissance festivals and Ren faires provide parents and grandparents with an interactive time capsule complete with educational entertainment resulting in a better understanding of history and culture," according to Nancy Nelson-Duac, Curator of the Good Stuff at http://www.theFamilyTravelFiles.com, and a patron of more than a dozen faires spanning two decades.
The best Ren faires for families create an atmosphere punctuated by lively entertainment and living history moments, creating the perfect setting for a carefree family experience difficult to duplicate on your own. Where else can you pretend to be a pirate, jester, lady in waiting or a forest fairy? Where else can you practice speaking like a citizen of the shire; enjoy falconry and human-powered rides; weave through an enchanted maze or participate in an organized quest? Where else can you hear storytellers; see a royal court; watch jousting, puppeteers, and jesters? And where else can you eat with your fingers?
The seven best Ren faires for families include Bristol Renaissance Faire in Wisconsin, Great Lakes Medieval Faire in Ohio, Holly Michigan Renaissance Festival, Ohio Renaissance Festival, Pennsylvania Renaissance Faire, New York Renaissance Faire, and Minnesota Renaissance Festival.
Three reasons to share faire time with your kids and nurture memories:
1. It's the ultimate interactive family experience with seeing, doing, and pretending all part of the fun.
2. It is an easy way to share time and practice imaging together without the aid of electronic devices.
3. It's a way to stretch your child's comfort zone by becoming immersed in the 16th century for a day where the sights, sounds, aromas, and costumes have the potential to create a quirky time travel experience.
To make planning a weekend time-travel experience easier, view the Ren Faires folder from the homepage of theFamilyTravelFiles.com. The colorful folder is populated with details and reviews for Ren faires, Renaissance festivals, medieval faires, and Celtic fests.
About theFamilyTravelFiles.com:
Founded in 1998, theFamilyTravelFiles.com is one of America's top-rated online family travel resources offering more than 1000 pages of timely family vacation ideas and trip planning information. The website specializes in displaying family vacation ideas, destination information, advice about family trips, and family travel deals. To assist in narrowing searches, colorful vacation idea folders are visible throughout the website.