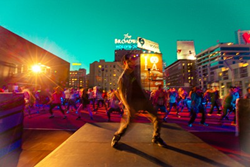 No pressure, no reason to feel self-conscious -– everyone's learning together and having a great time focusing on the fun, not the counts!
Los Angeles, CA (PRWEB) July 10, 2014
Seven Reasons to GROOV3 Your Way to Great Shape This Summer
=Enlist a Team Approach: It helps to use a fitness "buddy system"! It will make it harder to skip your workout. So, invite your friends and get ready for a calorie-sizzling dance party.
=Feel Great Without Hurting Your Joints: Regular exercise not only improves energy, but because it involves using a variety of muscles, you get the benefit of toning, and you in turn strengthen the bones in your legs and hips. Added bonus: Dancing may not only improve mobility and joint pain, but people also often find positive changes in depression, anxiety, fatigue, and tension. GROOV3's dance routines are low-impact and joint-friendly – good all over.
=Increase Cognitive Ability: Dancing makes you smarter. Frequently stimulating the mind via dance can ward off Alzheimer's disease and other dementia. Just as physical exercise keeps the body fit, dancing also increases cognitive acuity at all ages. Learning GROOV3's combinations can help keep those neural connections going. Fitness for body and mind – in this case, more is better.
=Enlist an Expert -– Check! Not everyone is a "Dancing with the Stars" pro, but celebrity choreographer Benjamin Allen (founder of GROOV3) and his team of GROOV3 instructors are dance industry experts, bringing a commercial flavor to the everyday person. They'll break down some easy-to-learn, accessible moves. No pressure, no reason to feel self-conscious – everyone's learning together and having a great time focusing on the fun, not the counts.
=We've Created a Killer Playlist: Nothing makes your body move more than your favorite late 80's early 90's jam! We'll keep your heart pumped w/our live, DJ-spun tunes. We've got a line-up of awesome DJ's for each of our classes, keeping the energy high and customizing the beat for your feet.
=Raise the Roof! Summer dance is well underway. Ben Allen is elevating his energy-fueled, hiphop-inspired cardio dance workout to the roof-top court of the Montalbán Theatre. We are pleased to be partnering with this historic venue. With family and theme nights, plus guest classes with Robin Antin (creator of the Pussycat Dolls) and Susy Marks (co-creator of U-Jam Fitness), there's something for everyone! Come join us on the roof or in the theatre -- Monday nights in Hollywood just got hotter. For tickets and information, please visit GROOV3.com or call The Montalbán Box Office (323 461 6999), or visit themontalban.com.
=See It, Shake It: If you can't take it to the roof or class, and/or want to keep things a bit more informal, check out GROOV3 Living Room Sessions. Dance it out to our easy-to-follow moves in the comfort of your home, on the go in your hotel room, or anywhere you've got internet access. We'll help you GROOV3 on the go.
GROOV3 is an all-levels community of people who just love to dance. Each class is an hour-long, DJ-driven celebration for your body, mind, and soul expression. It's fun w/benefits – you won't even "feel like you're working out". Join us at any of our 12 LA area locations, our newest in West LA, Pasadena, and a little extra something with GROOV3X in the Fairfax District. The "3" in GROOV3 stands for Allen's motto, "Dance, Sweat, Live". We're spreading the GROOV3ment to the roof and to a studio near you – we've got you covered this summer. See you soon.
Sources: Health.com, Stanford.edu, Arthritis Foundation