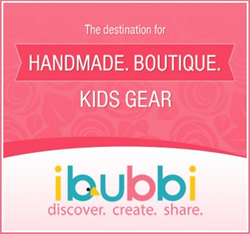 These wonderful products often get lost in generalist marketplaces, at ibubbi we give them a stage.
(PRWEB) July 23, 2014
ibubbi is pleased to announce the launch of ibubbi.com, a new online marketplace specializing in handmade and boutique children's products.
ibubbi is one of a new breed of boutique marketplaces specifically targeted as an alternative to much larger generalist websites.
A recent survey by ibubbi revealed that 72% of users surveyed would prefer targeted online marketplaces instead of generalist marketplaces such as Ebay, Etsy or Amazon. The research further revealed that those users were willing to use a smaller targeted marketplace if they had confidence that the goods on offer were high quality and that the transaction would be completed seamlessly.
ibubbi's CEO and Founder Mark Ellison comments "by focusing on what we're good at, we provide far more value to our independent store owners and customers than our competitors. Our sellers create amazing products ranging from baby clothes all the way through to handmade soft toys".
The new site has been custom designed with unique age and gender filters making products easy to find. The site has a focus on community, providing a platform for Artisan's to connect with customers around the world in a marketplace which celebrates everything that is great about unique high quality children's products.
For Artisans wishing to join ibubbi, the marketplace operates a seller verification policy whereby sellers are vetted prior to joining the community. Mark explains, "this sets us apart from other marketplaces. We showcase only proven independent sellers which allows us to ensure that ibubbi features only the highest quality products." Artisans interested in establishing a store on ibubbi can apply to join through the ibubbi site.
The marketplace currently operates a network of 35 independent stores with rapid expansion planned over the next 6 months, bringing an even greater selection of high quality children's products to its community.
To learn more, please visit ibubbi or contact the ibubbi team at support(at)ibubbi(dot)com.