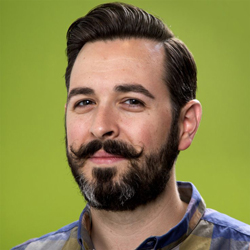 Rand's presentation will offer aggressive, futuristic and untapped inbound traffic-driving marketing strategies to keep dealers up and ahead over the next fifteen months, even as the digital universe shifts.
Salt Lake City, UT (PRWEB) July 10, 2014
DrivingSales today announced that Rand Fishkin, widely considered one of the top thinkers and strategists on SEO - and one of DrivingSales Executive Summit's most popular keynotes ever - returns as a DSES keynote in 2014. This year's sixth annual summit will be held Sunday, October 12th through Tuesday, October 14th, 2014 at the Bellagio Las Vegas. Early Bird registration ends on August 1st.
Fishkin's presentation, "Cracking the SEO Code for 2015: Tactics to Love vs. Leave," will not only put auto dealers ahead of the SEO marketing curve, but provide immediate actionable tactics to drive more traffic in an increasingly complex SEO universe.
"We are very excited to have Rand back! He knocked it out of the park at DSES 2012 and, ever since, dealers have been telling us how invaluable his insights and tactics have been in helping them drive more and more traffic," said DrivingSales founder and CEO Jared Hamilton. "But, a lot has changed since 2012 - in fact change happens every month in the digital, social and SEO landscape - and keeping up is a growing challenge for dealerships who are becoming increasingly hard to find digitally. Rand's presentation will offer aggressive, futuristic and untapped inbound traffic-driving marketing strategies to keep dealers up and ahead over the next fifteen months, even as the digital universe shifts."
An addict of all things content, search, & social on the web, from his multiple blogs to Twitter, Google+, Facebook, LinkedIn, and FourSquare, Fishkin is an author of definitive books on SEO and a sought-after speaker on the topic. He has participated on panels at SES Toronto, SES San Jose and SES New York, has been invited to speak to search engineers at Google and Microsoft, and has given presentations for the United Nations, Stanford University, the Public Media Conference, NPR, and many other companies and organizations. He co-authored "Art of SEO" and is the author of the "Beginner's Guide to Search Engine Optimization."
Fishkin is also the Co-founder of SEO software company, Moz, one of the most visible companies in the search-marketing world. Fishkin and his company have been profiled and featured at Newsweek Magazine and Seattle Times. Today, his blogs can be found on Twitter, Google+, Facebook, LinkedIn, FourSquare as well as Pinterest. Fishkin was named to Puget Sound Business Journal's 40 Under 40 List and BusinessWeek's 30 Best Tech Entrepreneurs Under 30.
Says Fishkin: "The tactics web marketers employ need to change. But tragically, many of us are stuck in a rut, eeking out the last few drops of fuel from efforts that are dying or dead. What's even worse - the cutting edge practices that are producing remarkable returns heavily benefit early adopters, and if we're not in those groups, we could find ourselves way behind in the years to come. 'Cracking the SEO Code for 2015: Tactics to Love vs. Leave' will dive deep into what really works to drive traffic, rankings, branding, and conversions (and what's better left in the scrap heap of yesteryear)."
Fishkin joins a keynote line-up that includes digital expert and author Brian Solis and eMarketer's Lead Digital Auto Analyst, Mike Hudson, with more speakers to be announced in the weeks to come – all of whom will provide actionable tactics for issues critical to dealerships. The summit, which had record attendance in 2013, and has sold out every year since inception, is unique in the industry because auto dealers determine the speakers and agenda, as well as the finalists and winners of the annual Innovation Cup and Dealer Best Idea Contest.
To register before the event sells out, go to http://drivingsalesexecutivesummit.com/registration/. For more information about the DrivingSales Executive Summit and to register, visit: DrivingSalesExecutiveSummit.com or contact dses(at)drivingsales(dot)com. Stay tuned for DSES news as it develops on http://www.twitter.com/drivingsales and on facebook.com/drivingsales. Participate in the conversation with the #DSES hashtag as preparations continue throughout the year.
Check out today's blog on DrivingSales at: http://www.drivingsales.com/blogs/DrivingSales/2014/07/10/rand-fishkin-returns-by-popular-demand-to-keynote-drivingsales-executive-summit.
About The DrivingSales Executive Summit (DSES)
The DrivingSales Executive Summit is where the most progressive dealers gather to collaborate and learn forward-thinking trends in automotive operations. DSES features world-renowned experts on marketing, technology and retail operations from inside and outside the industry who provide the most valuable and actionable insights for today's dealership professionals.
The DSES agenda is dealer-driven, ensuring the content is 100 percent focused on the needs of progressive dealers. Only the top 10 percent of speaking applications selected by DrivingSales members make it on the agenda.
To protect the quality of the event, seating is limited and always held at a 5-diamond venue. DSES has sold out every year. For those interested in attending, securing seating as early as possible is recommended. For more information, visit DSES.com
About DrivingSales
DrivingSales is a professional network serving the auto industry with dealer-driven news and information, online training, and performance data, all to enable dealers to make critical business decisions at their dealerships. DrivingSales' mission is to connect progressive dealership professionals to the people and information they need to maximize their success. Founded by a third-generation car dealer, and opened up to the industry in 2008, today DrivingSales has registered users in over 50% of new car dealerships in the US and is active in several other countries around the globe. To learn more about the DrivingSales community, training or performance analytics visit DrivingSales.com, DrivingSalesUniversity.com and DrivingSalesData.com.
DrivingSales Executive Summit Media Relations:
Melanie Webber
melanie(at)mwebbcom(dot)com
mWEBB Communications
424.603.4340
Crystal Hartwell
crystal(at)mwebbcom(dot)com
mWEBB Communications
714.987.1016