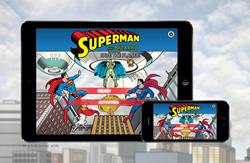 It challenges the status quo and shows that there is a new world of possibilities for print content.
Decatur, GA (PRWEB) July 10, 2014
Book app producer LivoBooks has paired up with Warner Bros. Consumer Products, on behalf of DC Entertainment, to offer kids and Superman enthusiasts a new type of storybook experience. Superman and Bizarro Save the Planet is a first-of-its-kind, interactive book app that combines a timeless story with beautiful animation, sound effects, and engaging activities.
In this adventure, villain Manga Khan is traveling the universe stealing famous artifacts. With the help of LivoBooks' proprietary technology, app users have the opportunity to get in on the action and join Superman and Bizarro in their quest against Manga Khan. Some of the features of this book app include:

32 pages of an immersive motion storytelling
Innovative camera effects that guide the reader through the story
Story and artwork developed by Warner Bros. Consumer Products
Drag and play interactive elements that allow the user to participate in the story
Narrated text with word highlighting
Ability to take photos with Superman and save them on your device
"I'm so excited with the final result!" says Pedro Israel, CEO of LivoBooks. "The app provides a fantastic experience. It challenges the status quo and shows that there is a new world of possibilities for print content."
Superman and Bizarro Save the Planet is available as a free download for iOS and Android devices in the United States and Canada. The free version includes the first part of the story as well as a fun photo page with stickers. The full app, which unlocks the rest of the story and more exciting features, can be purchased for USD 3.99.
About LivoBooks
LivoBooks is a pioneer in the book app market. They use innovation and technology to deliver the magic of storytelling, art, and music to children around the world. With a growing portfolio of digital applications and interactive books, they enrich the lives of tech-savvy kids through entertainment and education. LivoBooks has offices in the U.S. and Brazil.
About Warner Bros. Consumer Products
Warner Bros. Consumer Products, a Warner Bros. Entertainment Company, is one of the leading licensing and retail merchandising organizations in the world.
About DC Entertainment
DC Entertainment, home to iconic brands DC Comics (Superman, Batman, Green Lantern, Wonder Woman, The Flash), Vertigo (Sandman, Fables) and MAD, is the creative division charged with strategically integrating its content across Warner Bros. Entertainment and Time Warner. DC Entertainment works in concert with many key Warner Bros. divisions to unleash its stories and characters across all media, including but not limited to film, television, consumer products, home entertainment and interactive games. Publishing thousands of comic books, graphic novels and magazines each year, DC Entertainment is the largest English-language publisher of comics in the world.
SUPERMAN and all related characters and elements are trademarks of © DC Comics.
(s14)