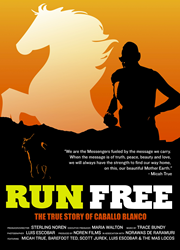 "They run from an early age until they are about 80. So, what makes them so special? They remember that running is a knowledge. The rest of us have made it a commodity, a product. But it is a physical knowledge, a simple message of love." - Micah True
Seattle, WA (PRWEB) July 10, 2014
"Run Free - The True Story of Caballo Blanco" is a feature length documentary about Micah True, an American ultra runner who was a main character in Christopher McDougall's best-selling book "Born to Run - A Hidden Tribe, Superathletes and the Greatest Race the World has Never Seen".
Micah True (aka Caballo Blanco - the White Horse) was an enigmatic visionary who lived and ran with the Tarahumara Indians in northern Mexico. Also known as the Running People, they are some of the best long distance runners in the world. True created a 50-mile foot race known as the Copper Canyon Ultra Marathon to honor their running traditions and aid in their sustainability. Each year hundreds of Tarahumara come to the small village of Urique to compete against some of the best runners in the world. All of the race finishers win 500 pounds of corn in addition to significant prize money for the top ten. Most of the international runners return their winnings to the Tarahumara who are experiencing draught-related famine.
The feature length documentary is directed by Sterling Noren, a filmmaker from Seattle, Washington who met Micah True in 2009. Most of the material for the film was recorded in the weeks leading up to the 2012 ultra marathon and includes interviews with the running legend and his interactions with the Tarahumara. Shortly after the race, Micah True disappeared in the Gila Wilderness of New Mexico. After four days of searching, his body was found and recovered. He died doing what he loved most - running.
"Micah's vision lives on and his legacy will be honored in this film," said Noren.
The project is currently midway through a 40-day fundraising campaign on Kickstarter.com. The filmmakers need to raise $75,000 by the end of July if they are to succeed. Money that is raised will go to cover production expenses and marketing the film through film festivals around the world.
For more information please visit http://www.runfreemovie.com.