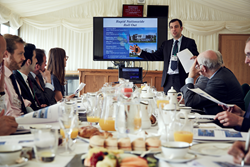 The ASAN concept is an exciting vision that puts the citizen first.
London, UK (PRWEB UK) 10 July 2014
The success of the Azerbaijani Service and Assessment Network (ASAN) – aimed at reducing corruption and increasing efficiency – was acknowledged in the UK Parliament during a roundtable on government technologies on 9 July. This event was organised by The European Azerbaijan Society (TEAS) in association with Total Politics magazine and hosted by Bob Blackman MP. Altogether, ASAN offers 29 private and 150 public services, with a central principle of bringing representatives from various government departments under one roof.
Kamran Agasi, Director, Innovations Centre, Azerbaijani State Agency for Public Service and Social Innovations, explained: "The concept evolved from the top leadership in Azerbaijan. The first ASAN Centre was launched in January 2013, and the latest centre – the sixth – was launched in May 2014. Each centre provides services to at least 2000 people each day, and more than two million people have used the services so far.
"We expect the entire country to be covered by the end of 2015. The ultimate goal is to provide satisfaction for Azerbaijani citizens by making services easy to access and ensuring efficiency. ASAN centres represent corruption-free zones and are designed to be completely transparent. Our software engineers have also developed their own queuing systems, whereby appointments may be booked online, users have an accurate indication of how long they must wait to be seen, and even receive an SMS notification when they are coming to the front of the queue. This saves wasted time and frustration. Citizens may also undertake several services during one visit.
"All ASAN centres display fees on specially installed monitors and distribute leaflets that itemise all fees and the list of required documents in advance. Innovation is a cornerstone of the concept. Civil servants do not deal with payments, thereby eliminating any possibility of corruption. We also aim to constantly improve ASAN services. The staff in the centres – who have an average age of 25 years – are intensively trained on all systems. One of the main pillars of the system is accountability, and citizens are encouraged to give feedback on their performance using Skype kiosques, exit poll machines, Facebook and web pages, amongst others. ASAN employees must have the mindset to deliver, and are rewarded for good performance. ASAN Centres run 'Banks of Ideas' where citizens can make suggestions on how systems can be improved, including their perspective on future development of the entire system. An example has been the inclusion of free crèches and mothercare rooms in all centres, so parents may leave their children whilst they use ASAN services."
Azad Jafarli, Head, International Relations Department, Azerbaijani State Agency for Public Service and Social Innovations, continued: "ASAN is designed to minimise bureaucracy. Queries and suggestions can be made using freephone number 108 to a call centre, or via Twitter and Facebook. Mobile ASAN services have been inaugurated and ASAN representatives can visit citizens back in their own homes – no fees are payable by disabled persons and children with limited healthcare. ASAN Centres are open every day of the week, including lunchtimes, after work and weekends, enabling all citizens to visit. Recently ASAN services have achieved ISO 9001:2008 certification, which guarantees the quality of the system. It is the only agency based on the 'one-stop-shop' principle holding this certificate that constantly measures quality.
"We are currently working on the ASAN 2 concept, whereby we will move towards mobile provision of services. We have already initiated the concept of mobile e-signatures, known as mobile ASAN-imza. ASAN is constantly evolving in order to meet the best interests and satisfy the expectations of citizens – there are ongoing deliberations on how to issue a passport in one hour. In Azerbaijan, ASAN has set exemplary standards on public service delivery for other government departments."
The attendees indicated their interest during a lively question session. Lord Kilclooney said: "I have visited many countries, and witnessed the ASAN centre for myself in Baku. It is the most impressive system of its type that I have seen in any country."
Baroness Mansoor commented: "The ASAN concept is an exciting vision that puts the citizen first."
Christopher Pincher MP, Chairman, Azerbaijan All-Party Parliamentary Group said: "I visited an ASAN centre in Baku, and saw people of all ages and genders using the systems. There is no doubt that the concept is driving down petty corruption and increasing public confidence. The model is undeniably transferable to other countries, and I encourage application of the system elsewhere, not least due to the emphasis on transparency."
The delegation then went on to visit Westminster Council, where there was a mutual exchange of experiences regarding the provision of e-government services. Councillor Melvyn Caplan, Cabinet Member for Finance, Corporate and Customer Services, showed how his council is striving to reduce annual costs by £100 million by moving services away from call centres and desk services to online provision.
They also met Andy Sawford MP, Shadow Local Government Minister, who was previously Chief Executive at the Local Government Information Unit (LGiU). He suggested that meetings and workshops at cabinet level needed to take place so aspects of the Azerbaijani model could be applied to the UK scenario.