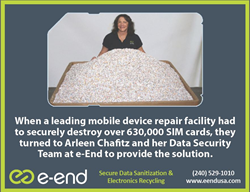 Frederick, Maryland (PRWEB) July 16, 2014
Frederick's e-End, which specializes in the secure destruction of a wide variety of electronic media was recently selected to provide a secure solution for the destruction of over 630,000 SIM cards. One of the country's largest mobile device service facilities had this unusual requirement and e-End was selected to provide this destruction service.
According to e-End owner and CEO, Arleen Chafitz, "we were selected because of our secure facility and special certifications for electronic data sanitization and electronic recycling."
"We do this secure data destruction on a daily basis for many federal agencies and various other companies," she added.
e-End has achieved the AAA Certification from the National Association for Information Destruction (NAID) for Onsite & Plant-Based Physical Hard Drive Electronics and for all Non-Paper Media Destruction.