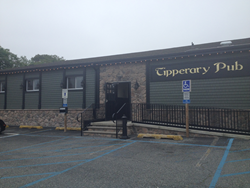 There's going to be something for everyone!
Lakehurst, NJ (PRWEB) July 14, 2014
Four guys walk into a bar and the rest is history. Tipperary Pub located in Lakehurst, New Jersey became the go-to restaurant and bar for local residents since opening two years ago, until Super Storm Sandy put a hurting on business in the entire area. That's the old Tipperary Pub story. Now under new ownership, the fully remodeled restaurant is preparing for a grand opening.
New owner and experienced businessman, Emil Hartel is determined to get the popular eatery back on its feet by introducing new specials, live entertainment, and lower drink prices. "The original owners did a nice job but they didn't have the experience to keep it afloat like I do," said Hartel. Former owner of Pavo Pizza in Toms River, New Jersey, German restaurateur, Hartel has been managing food and liquor businesses for over forty years including pizzerias, nightclubs and restaurants.
The restaurant is designed with a large rectangular bar and a separate party room to accommodate fifty guests. "I am in the process of redecorating to give it a more Zen feeling," said Hartel. "Right now it is very nice but the atmosphere is cold and I'm trying to make it feel homier." Also in the works are tasty additions to the menu of what Hartel calls, "New American Cuisine." "We are going to add pasta, pizza and salad. What people like to eat," said Hartel. A coal-fire pizza oven will also be installed soon.
Hartel's main priority is to appeal to the surrounding community. Delivery will be offered for the older people living in the area and the customers from Lakehurst's military facility, Joint Base McGuire Dix, will enjoy the many international dishes featured on the new menu. "Everything will be made to order," said Hartel. "There's going to be something for everyone!" Entertainment will also be added, featuring live bands on the weekends. "It is going to take time to establish ourselves," said Hartel. "We have to let people know there is a new owner and we are better than ever!"
The Tipperary Pub is located at 2313 Highway 547, Lakehurst, New Jersey. For more information or to make a reservation, visit http://tipperarypub.com/ or call 732.323.0007.
About Bielat Santore & Company
Bielat Santore & Company is an established commercial real estate firm. The company's expertise lies chiefly within the restaurant and hospitality industry, specializing in the sale of restaurants and other food and beverage real estate businesses. Since 1978, the principals of Bielat Santore & Company, Barry Bielat and Richard Santore, have sold more restaurants and similar type properties in New Jersey than any other real estate company. Furthermore, the firm has secured in excess of $500,000,000 in financing to facilitate these transactions. Visit the company's website, http://www.123bsc.com for the latest in new listings, property searches, available land, market data, financing trends, RSS feeds, press releases and more.