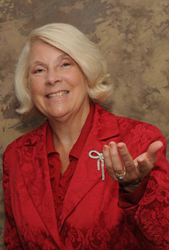 Make good use of your wealth.
Daytona Beaach, FL (PRWEB) July 16, 2014
Should exporters allocate resources equally even though some investments are more profitable than others? No, exporters should concentrate their resources where they will produce the best rate of return.
For example, a universal law, the 80/20 rule, predicts that the top twenty percent of customers will produce eighty percent of the profits.
"Dr. Kruger has laid out an easy-to-use process for growing top customers in any business," states Robert Iocco, CPA, CIC, CEO, Trustpoint Insurance, Bristol, VA.
Dr. Betsy Kruger's new book, "Aesop's Keys to Profitable Marketing" coaches exporters to concentrate resources on their best opportunities. The publisher is Publishing Directions LLC.
Dr. Betsy Kruger's book explains how exporters can profit from using new marketing strategies. Some of "Aesop's Keys" are to focus on quality, compete on strength, target top prospects, and reward the best. The chapters update tales by Aesop, relate his wisdom to marketing, and show how to adapt each key to an exporter's situation.
For example, this is one way to interpret a parable by Jesus about using talents in business. A man entrusts his wealth to three servants while he travels. Two servants trade his talents to increase the man's wealth. The third servant digs a hole in the ground and hides the wealth. When the man returns, he praises the two successful businessmen but condemns the unprofitable miser.
A few centuries before Jesus, Aesop told a similar tale. Aesop's neighbor converted all of his riches into gold, melted it into an ingot, and buried it in a secret place. Every day he gloated over his treasure for hours. Aesop said, "He left his heart and spirit in the hole." His servant snoops on him, sneaks back to the place, and snitches the lump of gold. When the Miser returns, he discovers the hole is empty. In despair, the man pulls his hair and cries, "My treasure is gone!"
Aesop pretends to sympathize with his neighbor's loss. "Don't despair like that, my friend. You won't miss it. Just put a brick in the hole and imagine it's your gold. You won't be any worse off than before. Before you lost it, your gold was of no earthly use to you." Aesop chides misers. "Unused possessions create no good." Make good use of your wealth.
Both Aesop and Jesus encourage business leaders to use their wealth for good, instead of hoarding it. Exporters can provide benefits to their customers, income to their employees, and profits to themselves.
Dr. Kruger's mission is to ignite the engine of prosperity with her message. She conveys twelve ways any business can profit by using the 80/20 rule. After selling her software worldwide, she provided consulting to many corporations and coached over 2000 start-ups to succeed.
Her first book, "Top Market Strategy: Applying the 80/20 Rule," enriches graduate marketing courses. She owns Strategic Power, a marketing consultancy rated A+ by the Better Business Bureau and certified by WBE and WOBE.
Dr. Betsy Kruger coaches business leaders and speaks to associations and businesses. She is an expert source on the topic of marketing for small businesses and start-ups. Please contact her for more information.