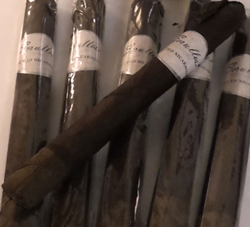 'This was clearly not a production cigar, but I just had to try it.' - Lesseraux
Houston, TX (PRWEB) July 12, 2014
Houston based Serious Cigars has announced that it now has its own in-house cigar brand, that was exclusively selected for their customers. The story of how Serious Cigars owner Ron Lesseraux came to discover the most unique cigar in the world is as fascinating as the cigar itself.
Lesseraux often visits various cigar factories for product testing. During one such trip to Nicaragua, he walked by a Master Seven Roller bunching leaves in his hand and rolling them with a binder. He finished them off with a medium, dark Maduro wrapper without using a mold of any kind, making the cigar look like a rough looking torpedo. "This was clearly not a production cigar, but I just had to try it," said Lesseraux. "Once I fired it up, it was truly exceptional. I would say it was 'imperfectly perfect.'"
Lesseraux knew he had discovered an exclusive special house brand that his customers would want to experience. No two cigars are blended or hand rolled the exact same way. He negotiated a partnership with the Cigar Master and called the cigar the Sorullos, after the Latin cornmeal based side dish made in sticks or logs, where no two look the same.
"Discovering this unique jewel is like finding a hidden treasure," states Lesseraux. "Each one has its own rough look, which literally breaks the mold of what a great cigar can look and taste like." Lesseraux is just starting to import the Sorullos for national distribution through its website seriouscigars.com or in its Houston stores. Adds Lesseraux, "We're bringing the Sorullos from our master hands to yours."
About Serious Cigars
Since 1997, Serious Cigars has provided tobacco enthusiasts around the world with the top blends from well-known manufacturers and boutique producers alike. They have several brick and mortar shops in the Houston area, including the largest walk-in humidor in the city, found at their 1960 location in north Houston. Other locations in Houston are in the Galleria area located at 2901 West Loop South Freeway #101, and at 15655 JFK Blvd, Suite B close to Intercontinental Airport.
Serious Cigars is one of the few online sellers that offer a real-time inventory for all of its products. What is listed is what is available, so customers can rest assured that there is no delay in back orders, and they offer free shipping on certain cigar box purchases.
The company specializes in the most popular brands, as well as the cream of the crop from boutique manufacturers. They do not carry every brand or every size. Their general rule is "If we like to smoke it, we carry it."
For more information on Serious Cigars, go to their website http://www.seriouscigars.com.