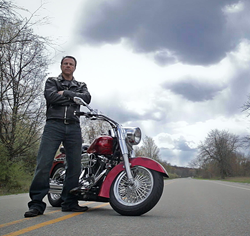 Harley-Davidson's recall of over 66,000 Touring bikes could help riders avoid a crash and potential injuries.
Detroit, MI (PRWEB) July 10, 2014
As The Motorcycle Lawyer, Attorney Jason Waechter has had the opportunity to help a lot of crash victims and their families. Having seen first-hand how devastating a motorcycle crash can be, Waechter has made a commitment to the biker community to try to help prevent crashes if possible.
"That's why I wanted to spread the word today about an announcement today that Harley-Davidson is recalling more than 66,000 motorcycles because of a brake line issue," says Waechter.
According to safercar.gov, a website run by the National Highway Traffic Safety Administration (NHTSA), there is a possibility that the front brake line on the affected motorcycles could become pinched between the gas tank and the frame. "Having the brake line compressed this way could increase the brake fluid pressure, which NHTSA says could cause the front wheel to lock up," Waechter states. Affected bikes are ABS-equipped 2014 Touring models.
According to this article on motorcycle-usa.com (July 9), Harley-Davidson is reporting six warranty claims that are potentially linked to the brake line issue, of which one was a crash without injuries. "Hopefully, Harley will get this issue resolved without anybody getting hurt," says Waechter. "That's obviously the best-case scenario."
NHTSA states that Harley-Davidson will notify owners of affected bikes starting in July, and dealers will be doing the necessary repairs for free. These will include replacing damaged brake lines if necessary, and installing straps in order to keep the line from getting pinched. "If you own a Harley and you're not sure if it's affected or not, check the list at safercar.gov," advises Waechter. "If you own one of the affected models, I suggest you contact Harley-Davidson directly at 1-800-258-2464 to get more information and find out if they think your bike is safe enough to ride," he adds.
Finally, Waechter advises motorcyclists who have been injured in a crash to contact an experienced lawyer to get help right away. "If you think your crash may be linked to this brake line issue, your best bet is to get in touch with an experienced lawyer as soon as possible."
# # #
Attorney Jason Waechter has spent two decades cementing his reputation for results. Over the years, he has specialized his practice to motorcycle accidents. Jason has fought tirelessly for accident injury victims and contributed significantly to safety education and accident prevention. He has entrenched himself as one of the nation's premier lawyers. If you or a loved one has been injured in an accident, call 1-800-708-5433 to speak with a lawyer who can help.