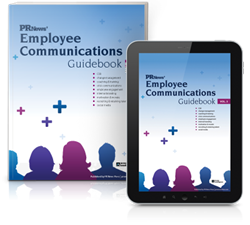 (PRWEB) July 15, 2014
PR News is looking for PR, communications and marketing experts to contribute articles to our upcoming Employee Communications Guidebook.
If you're interested in being a part of this project, please send us an article idea that fits into one of the following topics:

PR's Role in Employee Communications
Motivation and Morale
Internal Social Media Guidelines and Recommendations
Leading and Nurturing Your PR Team
Communicating with Employees in Crisis
Communicating with Different Generations of Employees
HR's Collaboration with PR
Your Brand Evangelist Plan
Focused, specialized pitches are preferred. Graphics, tips, charts, checklists, matrixes, and dos and don'ts are preferred as well.
Please send your article idea in the form of a 50-word abstract sent to prnewspress(at)accessintel(dot)com using the subject line "Employee Communications Guidebook Abstract."
The deadline for abstracts is Friday, July 25. We look forward to hearing from you.
The PR News Editorial Team
http://www.prnewsonline.com