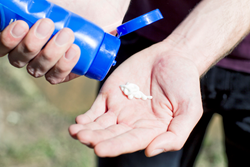 Lincoln, RI (PRWEB) July 10, 2014
Nothing says summer like a bright, sunny day. However, exposure to the sun can be dangerous, especially when it comes to harmful UV rays. That's why Amica Insurance is sharing these five tips from the American Cancer Society to promote sun safety this summer:

Know when the sun is at its most powerful, as UV light is strongest between 10 a.m. and 4 p.m. If unsure, use the shadow test: If your shadow is shorter than you are, the sun's rays are at their strongest.
Don't be fooled by hazy days. UV rays can still be dangerously strong, even when the sunlight is blocked or indirect.
Cover as much skin as possible. Long-sleeved shirts and pants offer the most protection, and dark colors provide more protection than light colors.
Apply sunscreen properly. A palmful should be used to cover the arms, neck, legs and face. Sunscreen should be reapplied at least every two hours – possibly more often, as it can wash off with water or sweat.
Wear UV-blocking sunglasses. The correct sunglasses protect the delicate skin around eyes and the eyes themselves. Sunglasses should block 99 to 100 percent of UVA and UVB rays. Look for labels that say "UV absorption up to 400 nm" or "Meets ANSI UV Requirements."
The Environmental Protection Agency has a UV Index Search to look up the strength of UV rays in your area on a daily basis. The index, combined with these five tips, can help protect you from UV rays this summer.
About Amica Insurance
Amica Mutual Insurance Co., the nation's oldest mutual insurer of automobiles, was founded in 1907. The company, based in Lincoln, R.I., is a national writer of automobile, homeowners, marine and personal umbrella liability insurance. Life coverage is available through Amica Life Insurance Company, a wholly owned subsidiary. Amica employs more than 3,300 people in 40 locations across the country. For more information, visit Amica.com.
Contact: Vince Burks, Corporate Communications, 50 Amica Way, Lincoln, RI 02865-1155, 800-652-6422, ext. 24563
Twitter: Amica
Facebook: Amica Mutual Insurance Co.