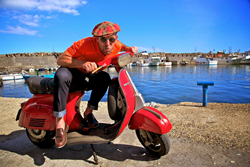 New York, NY (PRWEB) July 10, 2014
Eat! Drink! Italy! with Vic Rallo will premiere nationally on Tuesday, July 22 at 6:30 p.m. (check local listings). Season Two features 13, new half-hour episodes showcasing the host's unique knowledge of Italian regional cuisine and wine. In his second series, Emmy nominated Vic Rallo takes viewers on a culinary adventure throughout Italy to explore the concepts of "la materia prima" – the finest quality of ingredients – and the phenomenon known as "kilometer zero" – the concept of harmonizing ingredients-using locally connected ingredients and wines in one's cuisine.
Vic serves as tour guide as he energetically and enthusiastically moves from ground to table, whether working in the kitchen alongside local chefs or wandering among the grapes with vintners whose families have dedicated their lives to the art of winemaking. From cheese to fish, from homemade pastas and soups to vegetables and meats, each episode will satisfy foodies with unique takes on traditional recipes, and the bonus of some of the best scenery Italy has to offer. Each episode will tell the story of the men and women who are creating some of Italy's best cuisine and wines and the relationships Vic has formed through his extensive travels from North to south of Italy.
The second season of Eat! Drink! Italy! delves more deeply into the northern regions of Italy, cities whose very names make the mouth water: Verona, Undine, Turin, Lake Como, Parma, Modena and Alba, to name a few. The itinerary also includes quintessential vineyards in Sicily, the Veneto and San Felice. Wine connoisseur Anthony "Tony" Verdoni returns for season two. Noted for his historic knowledge of Italian wines and winemakers, Verdoni is known as Il Professore ("The Professor") for his mastery of the industry and the generations of families who have made Italian wines famous.
"Vic brings the viewer as close as he can to giving them a taste of what he is tasting, to experience the sensory excitement he is enjoying," explained executive producer and director Mark Ganguzza. "For centuries our ancestors used the food outside their doors," added Rallo. "In Italy, that practice continues – whether from the earth or the sea, the freshness of the food produces flavor like no other."
Vic Rallo is the owner of Basil T's Brewery and Italian Grill in Red Bank, New Jersey, and Undici Taverna Rustica in Rumson, New Jersey. A noted expert on Italian wine and cuisine, his reviews and recommendations are much sought after by the public and his colleagues in the culinary business. He has appeared regularly on national television on The Rachael Ray Show, Good Day Live, and CBS The Couch speaking about the culture, cuisine and wine of the country he is so passionate about. This fall, he will transform the legendary Basil T's brewery into BIRRAVINO, a new concept restaurant of meeting, eating and drinking.
CreateTV.com will feature several of the recipes presented in the series. Food and wine pairings, wine reviews, archives of recipes from season one and more are available at eatdrinkitaly.org.
Eat! Drink! Italy! with Vic Rallo Season Two episodes air as follows (check local listings):
201 - "Kilometer Zero" Taglioni with Clams in Sicily with chef Emanuele Scarello; Rice Pasta with Fresh Vegetables in the Veneto with chef Gabrielle Ferron; Mount Etna winemaker Giuseppe Tasca; Vic prepares his Calamari with Prosciutto and Peas.
202 - "Closer and Closer" Culatello sandwich with charcuterie master Mark Buzzio; the Pugnitello grape with winemaker Leonardo Bellacini in San Felice; Italian Cheese 411 in Sicily; Pasta with Swordfish and Eggplant with chef Massimo Bianco.
203 - "Simple and Fresh" Amarone Wine Risotto with Pumpkin with chef Maria Cartillone in the Veneto; all about corks with Alessandro Cellai in Sicily; a tour of the Spilimbergo Mosaic School and Museum in Friuli; Pomegranate and Porcini salad with chef Debbie Cesari in Mount Etna.
204 - "Try These At Home" Gnocchi Di Soave with chef Mara Marcazzan in Verona; Cheeses of Valpolicella with Corrado Benedetti; Sicilian winemaker Marc deGrazia discusses the Mount Etna region and its impact on wine; Zuppa di Mare with chef Salvatore Giordano in Sicily.
205 – "Less Is More… Lots More!" Shrimp and Green Apple Salad with Chef Massimo Bianco in Sicily; Pasta with Zucchini and Prosciutto with chef Elia Bulgarelli in Verona; Sicilian winemaker Vinzia Novara discusses ancient vineyards.
206 – "Think Local, Drink Local" Calmari with Porcini Mushrooms with chef Michele Zuchiatti in Sicily; Risotto with Smoked Trout with chef Gabriele Ferron in Verona; Countess Aleghieri, descendent of Dante Aleghieri, discusses wine and other passions in Siena; Vic prepares his Cacio e Pepe pasta.
207 – "Prime Examples" Copicollo Two Ways with charcuterie master Mark Buzzio; Tagliarini with Cuttlefish, Sea Urchin and Sardines with chef Massimo Belliteri in Sicily; Friuli winemaker Gianfranco Gallo discusses the Green Harvest and Batonage methods of winemaking; Bruscetta with Sausage and Mozzarella with fashion designer Antonio Moretti in Siena.
208 – "Local Knowledge" Agli Amici Bottarga with chef Emanuele Scarello in Udine; Rigatoni with Fresh Anchovies and Fennel with chef Salvatore Giordano in Sicily; winemaker Roberto Pighin discusses Pinot Grigio and the Collio region of Friuli.
209 – "Easy to Master" Making organic, handpicked olive oil in Sicily; Tortellini di Soave with chef Mara Marcazzan in Verona; winemakers Luca Sabatini and Giancarlo Piubelli discuss the Soave region; Cantucci cookies with Emanuela Stucchi Prinetti (daughter of cooking pioneer Lorenza de Medici) and chef Andrea Gagnesi in Chianti.
210 – "Two Pastas" Macaroni Bastardo with chef Massimo Belliteri in Mount Etna; coffee roasting with expert Alessandro Hausbrandt in Trieste; Vic prepares the classic Pasta alla Norma.
211 – "In the Details" Artichoke and Arugula Salad with Chef Massimo Bianco in Sicily; the art of the simple sandwich -- Sopressata and Mozzarella on Foccacia; all about wine closures; Pasta with Shrimp and Shaved Artichokes with Chef Massimo Bianco.
212 – "More Than the Sum of the Parts" Pairing Italian wines with sandwiches; the history of the Palmento, the Sicilian communal wine press; an old method makes a new wine in the Veneto; Vic makes Pasta alla Carbonara.
213 – "Italian Soul Food" Italian wine word association; Stuffed Sardines with Chef Salvatore Giordano in Sicily; more Italian wine 41
About Eat!Drink!Italy! with Vic Rallo
Eat! Drink! Italy! with Vic Rallo, (http://www.eatdrinkitaly.org) takes television viewers on a fast-paced informative tour of Italy's virtually world of limitless food and wine, from the Alps to the southern shores of Sicily, each week on PBS. Whether touring a cheese cave that was once one of Mussolini's bunkers, hunting for the elusive white truffle, exploring Napoleon's wine tunnels, visiting a Slow Food superstar in her humble kitchen or going 20 meters underground to the very roots of one of Italy's most celebrated wine varietals, Vic Rallo brings a unique perspective to the traditional format of television cooking series. Eat! Drink! Italy! with Vic Rallo is a production of Sunburst Creative Group, produced be Mark Ganguzza.
About CreateTV
Drawing from more than 60 public television series from the cooking, travel, home improvement, gardening and arts & crafts genres, Create is now in its ninth year and reaches more than 76% of USTVHHs. The channel has become the destination for fans of the DIY/how-to genre, airing longtime favorites and marathons of themed episodes. Eat! Drink! Italy! with Vic Rallo is a production of Sunburst Creative Group. The series is a presentation of WLIW21 in association with WNET and is distributed by American Public Television. Diane Masciale is executive in charge of production for WLIW21.