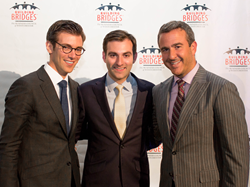 Westchester County and New York, NY (PRWEB) July 10, 2014
Joshua Caspi, principal of Caspi Development, and Jeremy Leventhal, managing partner at Faros Properties, were honored by the Business Council of Westchester as "Rising Star(s) – Westchester's Forty Under Forty" at a June awards ceremony. The event, hosted at the RPW Group in Rye Brook, lauded individuals in Westchester who are making their mark in their chosen profession at a young age.
The program is modeled after the national business recognition program "Forty Under Forty," and each year since 2004 Rising Stars has honored 40 young men and women who exemplify leadership, foresight and a vision for the future of Westchester County. The honorees are among the finest young talents in Westchester County who surpass expectations, raise the bar and set new standards for success while working with some of the region's best companies and institutions.
Caspi has developed an outstanding reputation in real estate, with Westchester as his home turf. He has developed high-end properties in Florida, Long Island, Manhattan, Brooklyn and beyond, always maintaining a cardinal focus on Westchester. Caspi's capstone project has been branding the Renaissance Corporate Center in downtown White Plains. He has also worked with residential and commercial properties in Larchmont, New Rochelle, Pelham and Yorktown.
Caspi's eye for detail and design has led to a number of impressive projects across hospitality, commercial and residential properties, such as the striking Waverly Building in Brooklyn; his communication skills and networking insight have allowed him to partner with other premier real estate brands, such as Faros Properties and CBRE Capital Markets, to tackle projects that revitalize neighborhoods.
Jeremy Leventhal has established himself as one of the most precocious real estate players in the Westchester and metro New York scene. Despite being just shy of 30, he is continually called on to discuss and educate listeners on the region's real estate landscape. Prior to Faros, Leventhal's penchant for entrepreneurship and leadership led him to become an active member of the Urban Land Institute and AIPAC Real Estate Division, and to sit on the board of Harvard University's Taubman Center for State and Local Government.
Leventhal has steered Faros to success in a stunningly short period of time, and made Westchester a stronger community in the process. Drawing on entrepreneurial spirit, he has enabled Faros to expand across 1 million square feet of property, put down roots in four states, and hire over 50 employees in less than four years.
About Caspi Development, LLC:
Caspi Development is a leader in the ownership, management and development of residential and commercial real estate across the New York metropolitan area. With deep expertise in identifying and developing properties with untapped potential, Caspi's family-owned, hands-on approach to all projects is key to its success. The company's three-generation pedigree translates into nearly a half-century of industry knowledge.
Headquartered in Purchase, NY, at the center of the bustling Lower Hudson Valley, Caspi has properties throughout Westchester, Manhattan, Brooklyn, the Bronx, Queens and Long Island.
About Faros Properties, LLC:
Faros Properties is a New York City based real estate investment firm established by Alexander Leventhal, Jeremy Leventhal and Elliot Gould as a platform to target long-term private investment opportunities. Faros primarily targets core investments in supply-constrained markets with high concentrations of intellectual capital. Faros and its predecessor companies trace their roots to family-owned operations. The family has for over six decades been actively involved in the construction, development, acquisition, management, and financing of over 50 million square feet of real estate internationally.