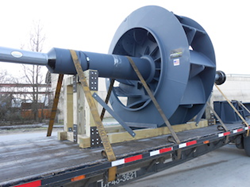 Pelham, Alabama (PRWEB) July 15, 2014
Last year, ProcessBarron retrofitted four 2,750-hp fans that draft heavy dust-laden gases from an electric arc furnace (EAF) to a baghouse for air pollution control at the Severstal steel plant in Columbus, Miss. These retrofits helped the Severstal Columbus plant achieve over 25 million kWh per year in energy savings and reduced the plant's EAF energy costs by $0.70 per ton, qualifying it for the Tennessee Valley Authority's Major Industrial Program which, along with the state of Mississippi, awarded Severstal more than $2.5 million for the plant's reduction in electricity consumption in October 2013.
Since October, ProcessBarron's air handling system retrofits have produced significant savings thanks to increased wear resistance, reduced maintenance costs, and more reliable operation. Fan maintenance costs are down 80 percent at the steel plant and the on-budget, on-time project is set to deliver ROI in the projected timeframe of less than two years. In addition, C02 emissions at the steel plant have been reduced by 30,000 tons per year.
To engineer the cost-saving and emissions-reducing designs, ProcessBarron conducted a thorough field performance assessment. A computational fluid dynamics (CFD) study was conducted to predict wear patterns, allowing ProcessBarron to incrementally optimize the design to control wear and improve rotor life.
The TVA Major Industrial Program, which is still active, was developed to encourage reductions in electric energy use by large industrial facilities that have 5 megawatts or more of contract demand. Plants that qualify for the program and that complete a project to reduce electric energy consumption will be awarded a lump-sum of $0.10 per kWh on first-year savings or 70 percent of the project cost, whichever is less.
About ProcessBarron
ProcessBarron, based in Pelham, Ala., is a leader in the design, manufacturing, installation, and repair of air, gas, fuel, and ash handling equipment for a variety of heavy industrial applications. Established in 1981, ProcessBarron creates total systems solutions that include all components related to the movement of air, fuel, or other materials. Learn more about ProcessBarron at http://www.processbarron.com.
###