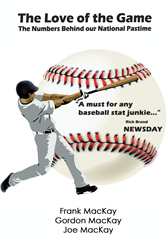 A must for any baseball stat junkie.
Staten Island, New York (PRWEB) July 14, 2014
On Tuesday, July 8th, Independence party chairman Frank MacKay, author of The Love of the Game: The Numbers behind our National Pastime spoke to the Staten Island Rotary Foundation about all things baseball, the current state of politics, and the motivation behind his current book.
Frank MacKay's career in public relations, entertainment and politics spans two decades and encompasses a diversity of fields of work. MacKay was always an avid student of politics, and early in his career in entertainment he helped club-goers register to vote by the hundreds. In 1995, be became a key organizer in Ross Perot's run for the Presidency and became active in local third party politics. By the year 2000, at the age of 31, MacKay became the youngest State Chairman of a political party in New York State history, and has been re-elected as State Chair of the Independence Party of New York six times. The Independence Party has grown significantly under his leadership – it is the largest third party political organization in the nation with more than 400,000 members. Frank hosts a daily talk show on LI News radio, as well as a nationally syndicated show.
Boulevard Books is an educational publishing company for the 21st century. Founded by educator and writer, Avi Gvili in 2010, It aims to publish those writers who say something new about the world in which we live.