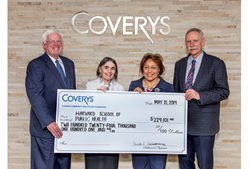 Boston, MA (PRWEB) July 14, 2014
Medical Professional Mutual Insurance Company and its subsidiaries ("Coverys") announced this week that they have donated more than $220,000 to programs investigating the most effective ways to encourage exercise and healthy food choices, both administered by the Department of Nutrition at Harvard School of Public Health.
"We welcome the opportunity to help move these innovative research proposals from Harvard School of Public Health into action," said Dr. Donna Norris, chair of Coverys Charitable Giving Committee and director, board of directors of Coverys, "and we support their objectives of making it easier for all Americans to adopt daily habits that can prevent long-term health problems."
Coverys has donated $95,221 to the "Can Cycle Tracks Help Stem the Rise of Obesity?" study, which will collect data on the use of a barrier-protected bicycle track along Malcolm X Boulevard in Roxbury. The study will determine overall ridership and demographic characteristics among cycle track users, as well as in-person and mail-in surveys on perceptions of the cycling track and bicycling as a form of exercise. Though bicycling has been found to be an effective way to reduce obesity, such activity has been relatively uncommon among lower-income and minority populations, and the HSPH program will examine the effectiveness of providing a safe bicycling environment in low-income neighborhoods. The results of the study will be publicly released to media outlets to assist the planning efforts of citizens' groups and transportation officials.
In addition, Coverys has donated $128,880 to the "Changing Food Choices by Families on SNAP" program. The initial stage of this program will analyze food-buying patterns among recipients of the Supplemental Nutrition Assistance Program, also known as food stamps. This data will be used to help guide nutrition education programs, as well as improved design and product selections at supermarkets. The overall objective is to "nudge" SNAP recipients toward the selection of healthier foods. The research group will be partnering with a large supermarket chain with purchasing data from almost 200 stores across several geographic regions in the United States.
"Both programs fit perfectly with our continuing efforts to advance research in the fields of public health and preventive medicine, and Coverys is pleased to provide funding for them," said Dr. Brenda E. Richardson, board chair for Coverys. Dr. Richardson has had a private practice specializing in clinical nutrition in Gloucester since 1987.
To learn more about programs at the Harvard School of Public Health's Department of Nutrition, please visit http://www.hsph.harvard.edu/nutrition/.
About Coverys
Coverys is the eighth largest medical professional liability insurance provider in the country based on direct written premium. Coverys member companies insure more than 25,000 physicians, surgeons, dentists, certified nurse midwives and allied healthcare providers, as well as more than 500 hospitals, health centers and clinics and is active in 27 states from coast to coast. Coverys has net admitted assets of $3.4 billion, direct written premium of $363 million and policyholder surplus of $1.4 billion, as of December 31, 2013. Coverys member insurance companies Medical Professional Mutual Insurance Company ("ProMutual") and ProSelect Insurance Company, as well as ProMutual-sponsored Coverys RRG, Inc. have a Best's Rating of A (Excellent). MHA Insurance Company and Washington Casualty Company have a Best's Rating of A- (Excellent) and OHA Insurance Solutions, Inc., an Ohio domestic insurance company, is not rated at this time.
Coverys emphasizes physician education and patient safety, and the company is acknowledged as a leader in providing supportive risk management services and resolute claim defense to the healthcare community. Coverys also offers a variety of interactive and relevant continuing medical education activities to healthcare providers across the country. For more information visit the Coverys website at http://www.coverys.com. Timely industry and company news can also be found on the Coverys blog at coverys.wordpress.com, on Twitter (@Coverys) and on the company's Facebook page.
###