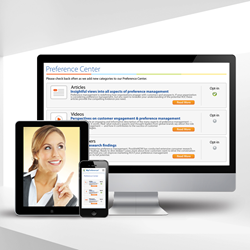 MyPreferences Momentum proves a catalyst for your preference management initiative
Atlanta, GA (PRWEB) July 10, 2014
PossibleNOW, the leading provider of customer engagement and enterprise preference management solutions, today announced the launch of its MyPreferences® Momentum consulting service, a special offering through its professional service organization designed as a catalyst for the planning and adoption of preference management and customer personalization programming.
"Enterprise preference management is both an opportunity and a challenge for organizations," said Scott Frey, CEO of PossibleNOW. "Preference management helps a company better understand what customers want from its brand. Understanding a customer's preferences allows an organization to engage in more meaningful interactions and gives the customer control to correct the conversation."
Frey continues, "Defining scope and actionable next steps are often the biggest obstacle to the adoption of a preference management strategy and personalization initiatives. MyPreferences Momentum is designed to address this need through careful analysis and the delivery of clear objectives. In a matter of weeks, companies get a clear picture of the success metrics and key value drivers to each of the business units impacted by the implementation of preference management. Because preference management is an enterprise-wide initiative, gaining buy-in and alignment with key stakeholders helps ensures the success."
Momentum consulting projects are designed to help internal stakeholders build a business case and develop a plan for preference management implementation. The process includes:

Onsite Evaluation and Assessment. PossibleNOW's multi-disciplinary team includes experts in information technology, marketing, user adoption and regulatory compliance. They conduct a series of interviews with key stakeholders in your organization to uncover and understand the need for preference management in each functional area.
Functional Area Evaluation and Documentation. Building on the initial onsite evaluation, our experts continue in their areas of focus to document existing requirements, review secondary discovery information and apply best practices and knowledge gleaned from preference center implementations at similar organizations. They'll create a strategic roadmap that outlines the project plan, scope, gap analysis and considerations for an enterprise-wide preference management implementation.
Needs Assessment Report. PossibleNOW's team presents the results of the Needs Assessment to a cross-functional team of internal stakeholders and decision-makers. The report includes an understanding of the near term steps necessary to successfully implement a preference management solution, the steps to create a preference center and what must be done to integrate with desired systems and touch points. Companies receive a high level competitive industry analysis to see where they align with their peers in terms of preference management. The report outlines the strategic steps to holistically implement preference management across the enterprise.
Typically completed in just four to six weeks, MyPreferences Momentum consulting projects offer a timely and cost-effective means to form a detailed plan for enterprise preference management that includes participation from all the key stakeholders necessary for implementation. PossibleNOW will offer Momentum direct to its customers and through its growing network of partners.
About PossibleNOW
PossibleNOW, headquartered near Atlanta, Georgia, enables businesses to build lasting, profitable relationships with customers, partners and employees through preference management technology. MyPreferences®, our enterprise preference management platform, empowers companies to listen to and learn from their customers through the active collection and management of preferences such as product interest, channel preference and frequency of communication. MyPreferences easily integrates into existing applications such as CRMs and marketing databases. The MyPreferences platform's flexibility, security and compliance protections make it ideal for serving as the central repository for customer data inside the enterprise and for minimizing regulatory compliance risk. For more information, call (800) 585-4888 or (770) 255-1020, e-mail info(at)possiblenow(dot)com or visit http://www.possiblenow.com.