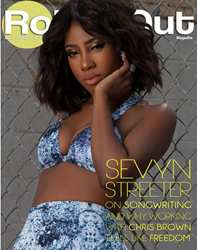 Chris is a huge part of my team.
Atlanta, GA (PRWEB) July 10, 2014
Sevyn Streeter is ready. Actually, she's been ready. The singer and songwriter from the small town of Haines City, Florida, has taken the long way to stardom. With all of the twists and turns her career took in its earliest stages, it's obvious that she had to develop a thick skin and a strong sense of self to push forward. But push she did, and now she is closer than ever to fully realizing everything she's been striving for.
"My journey has been a crazy one," Streeter admits to New York-based journalist Todd Williams. "But it's been great and it's been necessary. I've been singing forever; I grew up singing in church. I met my manager, Tina Davis, and she introduced me to Chris Brown."
Streeter is open about how much Brown's guidance has helped her career. "Chris is a huge part of my team," says Streeter. "I learned and still am learning so much from him — from writing songs to dancing. I learned a lot from him and he's very encouraging."
From Florida to the Apollo Theater. From girl groups to established songwriter. Sevyn Streeter took the long way to get here. She isn't letting anything sway her now.
Visit rollingout.com to read the interview in its entirety. Be sure to check out the exclusive photo shoot and video footage with celebrity photographer DeWayne Rogers.
About Rolling Out Magazine:
Rolling Out, the nation's largest free urban weekly, is a digital and print magazine that focuses on the black experience in response to entertainment, politics, fashion, culture, sports and lifestyle points of interest. Headquartered in Atlanta, Rolling Out is positioned as the voice for the African American experience, using its newspaper as a platform in the marketplace to express urgency for education reform, and to document entrepreneurial endeavors and other relevant issues in the Diaspora. For information on rolling out, please log on to rollingout.com.