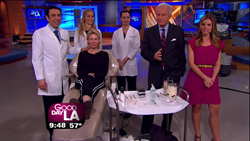 Los Angeles, CA (PRWEB) July 10, 2014
According to a July 3, 2014 report posted on the website of Women's Health Magazine, there are numerous myths surrounding the proper use of sunscreen. The report, titled "11 Sun Mistakes You're Probably Making," details eleven common mistakes even experts make about SPF. The mistakes include shortcuts taken by dermatologists and bad advice provided at the makeup counter. The most common and potentially serious mistakes are made by consumers who fail to apply a sufficient amount of sunscreen and by those who opt not to use any sunscreen at all. (See: goo.gl/RBMuBF)
"It really astonishes me, in this day and age, that anyone would go to the beach and completely forego sunscreen," says Dr. Simon Ourian, Medical Director of Epione Beverly Hills. "Even if one values looking tan over the potential consequences of skin cancer, the aesthetic implications of overexposure to the sun are the wrinkles, lines, and spots I treat on a daily basis in our clinic."
According to the article, it is important to be proactive when seeing a dermatologist so that no steps are missed and all one's questions answered. It's important to have one's skin checked regularly and not wait for something suspicious to appear on the skin. The report stressed the importance of applying sufficient sunscreen and re-applying throughout the day, making sure not to skip the feet, hands, ears and neck. If using a spray, the can should be held 3 inches from the body and the sunscreen rubbed in after the spray application.
"As noted in the article, there is insufficient SPF in makeup for effective coverage if one plans to be outside for more than a few minutes," says Dr. Ourian. "Makeup with SPF is effective for incidental exposure, but even then the sunscreen should be broad-spectrum."
Dr. Ourian has been a pioneer in laser technology and non-invasive aesthetic procedures including Restylane, Juvéderm, Radiesse, Sculptra, and CoolSculpting. These treatments are used for the correction or reversal of a variety of conditions such as acne, acne scars, skin discoloration, wrinkles, unwanted fat, stretch marks, varicose veins, cellulite, and others. More information about skin care can be found on Epione's website.