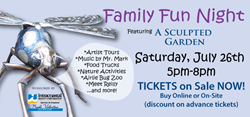 Wilmington, NC (PRWEB) July 11, 2014
Wander over to Airlie Gardens on Saturday, July 26th from 5-8pm for Family Fun Night – featuring Airlie's Goose Dog Reilly and special exhibit, A Sculpted Garden! Both the young and young at heart will enjoy a bug-filled evening of games, crafts, garden tours, nature activities, music and more.
Come out and meet Reilly, Airlie Garden's Pup on Patrol. Reilly works every day to keep Canada Geese from destroying the Gardens. He was rescued from Carolina Border Collie Rescue and has made a huge difference in the Gardens!
Also featured is A Sculpted Garden, a collection of stainless steel garden sculptures by Chapel Hill-based artists Gary Caldwell and Holly Felice, will be on display throughout the 67 acres of Airlie Gardens through September 28th. The exhibit consists of larger than life pieces, from butterflies and beetles, to wildflowers and willows. Family Fun Night showcases these giant one-of-a-kind pieces of art along with a myriad of other activities and entertainment including:

Reilly meet and greet
Garden tours with A Sculpted Garden artists Gary Caldwell & Holly Felice
Nature educational activities with Mr. Matt Collogan
Games & crafts
Live music by Mr. Mark
Food Trucks, including P.T.'s Grille and Granny Niece's Ice Cream Truck
This special event costs just $5/person in advance and $9/person on event day, but space is limited so buy your tickets today! Tickets can be purchased online at http://www.airliegardens.org or at Airlie Gardens - 300 Airlie Road and the New Hanover County Parks & Gardens Office at 230 Government Center Drive, Suite 120 during regular business hours. Children age three and older must purchase a ticket.