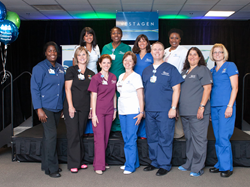 Jacksonville, FL (PRWEB) July 10, 2014
Baptist Health is the first health system in the world to widely adopt protective staff and patient garments that repel fluids and minimize the risk of transmission of organisms.
As part of a continued commitment to patient safety, Baptist Health is partnering with Vestagen Technical Textiles of Orlando, a global innovator in the development of advanced textile technologies.
More than 30,000 pieces of staff uniforms, lab coats and scrub jackets for employees are being distributed starting this week in phase one and will feature Vestex® textile technology, which has a durable fluid barrier, an antimicrobial and a special breathable material for wearer comfort. Baptist Health plans to rollout patient apparel featuring the same technology in September.
The fabric's fluid barrier binds to individual fibers, resulting in material that is highly repellent to bodily fluids, water, oil and dirt. This high repellency has been shown to synergize with Vestagen's embedded antimicrobial technology to prevent organism from being acquired and retained on the fabric. Soft surfaces, like uniforms, are vectors for the spread of organisms in acute care settings.
"Patient safety is the bedrock of what we do," said Baptist Health President and CEO Hugh Greene. "There is nothing more important than the safety of our patients and these garments are part of an organization-wide emphasis on quality and safety to create the safest possible environment for our patients and staff."
More than 6,000 Baptist Health inpatient staff with frequent patient contact, including nursing, imaging, respiratory therapy and environmental services members, are converting to the new uniforms during the phase one distribution. Staff uniforms will also be color-coded by function so that patients can more easily recognize who is caring for them.
Baptist Health is focused on making health care safer for everyone – staff as well as patients and their families. The more than $1 million Baptist Health is investing in phase one for the uniforms and patient garments represent this commitment to safety and the brand promise of "Changing Health Care for Good."
Diane Raines, Baptist Health's senior vice president and chief nursing officer, said patients ages 1 year and older also will receive newly-designed apparel made from Vestex protected fabric that "provide them with dignity as well as protection. Baptist Health is not making the change because of a problem with infection, but to be proactive in our use of technology to enhance our environment. The technology is part of a broader safety strategy designed to reduce exposure to pathogens."
Hand washing, Raines said, remains the primary strategy as well as rigorous cleaning of rooms and other surfaces, appropriate use of personal protective equipment, appropriate preparation of patients for surgery, and other measures.
"We know that this technology is not the ultimate answer to achieving zero infections," Raines said. "However, as with many patient safety 'bundles,' the adoption of this technology combined with an enhanced emphasis on other infection prevention techniques will elevate our level of protection for patients and staff and enhance the safety of the health care environment."
The health care industry nationally is moving toward improvements in infection control. Baptist Health is a pioneer in the field well before guidance came out in February from the Society for Healthcare Epidemiology of America on recommendations to prevent transmission of health care-associated infections from health care personnel attire. The report points to studies demonstrating that clothing of health care personnel, including the traditional white coat, may have a role in transmission of pathogens and that future studies are needed.
"We believe this is not just an investment in uniforms, but in an innovative technology that will make our environment safer," said John Wilbanks, Baptist Health chief operating officer. "This is a symbol of our commitment to our staff and their families, and our patients and their families."
The Centers for Disease Control and Prevention reports about one in 25 hospital patients has at least one health care-associated infection. The agency estimates that 2 million patients suffer from hospital-acquired infections every year and nearly 100,000 of them die. Hospital-acquired infections result in up to $4.5 billion in additional health care expenses annually.
Vestagen executives said Baptist Health is "blazing the trail" and setting the standard for others in the health care industry. Some other institutions have used the staff uniforms on a smaller scale, but Baptist Health is the first to institute the Vestex uniforms systemwide for staff with direct patient contact.
Baptist Health is also the first to have Vestex patient apparel.
"Health care worker safety equals patient safety," said Uncas "Ben" B. Favret III, president and CEO of Vestagen. "Everyone knows that to reduce germs you wash hands and wipe surfaces between patients. But, it's not feasible for staff to change uniforms between every patient. Baptist sets a new standard for safety with the adoption of Vestex as an additional evidence-based strategy for reducing environmental contamination. 'Wash – Wipe – Wear' is the new paradigm for a world-class health care experience."
Research on the Vestex uniforms published in Infection Control and Hospital Epidemiology documented a greater than 99.99 percent reduction in the super-bug MRSA on the Vestex uniforms compared to the non-protective uniforms.
"Of course, the number one way to prevent the spread of infection in our hospital environments is effective hand hygiene," said Mobeen Rathore, MD, chief of Infectious Disease & Immunology for Wolfson Children's Hospital and director of the University of Florida Center for HIV/AIDS Research, Education and Service (UF CARES), Jacksonville. "However, the addition of this uniform technology makes sense. It is one more way we can enhance the environment of safety relative to infection prevention."
About Baptist Health
Baptist Health is a faith-based, mission-driven system in Northeast Florida comprised of Baptist Medical Center Jacksonville; Baptist Medical Center Beaches; Baptist Medical Center Nassau; Baptist Medical Center South; Baptist Clay Medical Campus and Wolfson Children's Hospital – the region's only children's hospital. All Baptist Health hospitals, along with Baptist Home Health Care, have achieved Magnet™ status for excellence in patient care. Baptist Health includes the area's only dedicated heart hospital; a cancer center; orthopedic institute; women's services; neurological institute, including comprehensive neurosurgical services, a comprehensive stroke center and two primary stroke centers; a Bariatric Center of Excellence; a full range of psychology and psychiatry services; outpatient facilities; urgent care services; and primary and specialty care physicians' offices throughout Northeast Florida. For more details, visit baptistjax.com. For information on Wolfson Children's Hospital, visit http://www.wolfsonchildrens.org.
Learn more on Twitter about how #BaptistJaxProtectsYou.