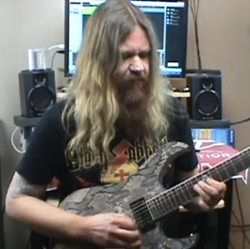 (PRWEB) July 10, 2014
Darrin starts off this lead guitar lesson by giving some background on the lick and explaining that it can be played using any of the 7 major modes by simply following the sequence demonstrated in the lesson. Goodman demonstrates how to perform the lick as follows; 10th fret of the 6th string with first finger to the 12th fret with 2nd finger to the 14th fret with 4th finger to the 11th fret of the 5th string with first finger to the 12th fret with 2nd finger to the 14th fret with 4th finger and then repeat the notes on the 5th string and then add the 11th fret of the 4th string with first finger and then descend back to the 14th fret of the 5th string and then the 12th fret. This sequence is then repeated starting on the 5th string and ending on the 3rd string. Guitar TAB's are available for this lead guitar lesson at GuitarControl.com.
The Lydian Mode is composed by playing the major scale and sharpening the fourth note by one half step. The name Lydian comes from the Greek referring to the ancient kingdom of Lydia in Anatolia. Since Lydian is made up from the major scale with a raised 4th, it can be played over major and major 7th chords and is compatible with many major chord progressions and keys.
Paul Gilbert is a virtuoso guitarist from Carbondale Illinois best known for being a member of Racer X and Mr. Big and has also released numerous solo albums and guest appearances on other albums.
Darrin Goodman
Darrin Goodman, a native of Ogden Utah, began playing guitar at the age of 12 after hearing KISS at an earlier age. Darrin has been a local finalist for the King of the Blues contest and is the lead guitarist of international recording artist Sonic Prophecy who has performed with artists such as Accept, Sabaton Cinderella and Ratt. Darrin has been teaching private lessons to 30 to 60 students a week from his home studio since 1987.
About GuitarControl.com
GuitarControl.com is the leader in modern guitar instruction. It's packed with recourses including articles, video lessons, and the best videos in the business for the beginner to the advanced guitar student taught by the best instructors out there. Weather you are into the blues, rock, jazz, metal, folk, or anything in between, they have you covered.