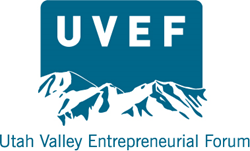 2014 Top 25 winner success bodes well for the future of Utah's economy. In its 25th year, UVEF is pleased to continue as a powerful supporter of the state's entrepreneur ecosystem
Provo, UT (PRWEB) July 10, 2014
Marking its silver anniversary year, the Utah Valley Entrepreneurial Forum (UVEF) today announced winners of its 2014 "Top 25 Under Five" Award, spotlighting outstanding Utah entrepreneurs and start-up companies. This year's recipients collectively garnered $40 million in 2013 revenue while creating more than 950 jobs. Award ceremonies were held at Zion's Bank in Provo. UVEF recognized Boostability as the #1 winner among the top 25. Nearly doubling in size since it first won top honors in last year's Top 25, Boostability offers search engine optimization (SEO), local search and social media fulfillment services. They employ nearly 300 staff.
"Utah's startup climate is second to none," said UVEF chairman Ken Kaufman. "2014 Top 25 winner success bodes well for the future of Utah's economy. In its 25th year, UVEF is pleased to continue as a powerful supporter of the state's entrepreneur ecosystem."
This year's other award recipients are Lucid Software, BambooHR, PcCareSupport, FiberFix, iQue Repair, Zylun, WISE Flooring & Design, Sunlight Solar Systems, Fit Marketing, Lancera, Launch Leads, CruxCase, HIPAA One, Red Star Transportation, SpinGo, Moki, POP ART SNACKS, foreUP Golf, Quick Request, Discovery Space Center, Black Dirt Organics, SquareHook, 3Dplus.Me, and Disruptive Advertising.
In it's new 'Ones to Watch' pre-revenue category, UVEF also honors Skeduna, Box Support, Sphere Manufacturing, Sentius Technologies, ClientSuccess, Steptap, Xomly, Cypher, and QuotaDeck.
Serving as emcee for today's event was David Bradford, prolific serial entrepreneur, investor, and author.
This year marks UVEF's fifteenth Top 25 Under Five competition. UVEF has highlighted more than 300 companies through the history of this competition, including Orange Soda, Omniture, Skullcandy and Xango, among many others.
About UVEF
The Utah Valley Entrepreneurial Forum (UVEF) is a volunteer non-profit support group linking entrepreneurs to Money, Markets, and Mentors. Celebrating 25 years of new business success, UVEF empowers current and future business leaders to thrive in today's competitive market. We provide real-world, practical education and valuable resources on how to access needed capital, attract new customers and tap into industry experts. For information on upcoming meetings, speakers and exclusive membership benefits visit http://www.uvef.net.
Press Contact:
John Pilmer
PilmerPR
801-369-7535
jpilmer(at)pilmerpr(dot)com