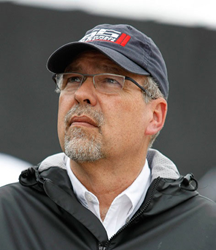 I am very excited to work with SCCA, as it is an opportunity for me to give back to the sport where my passion for racing started.
Topeka, KS (PRWEB) July 11, 2014
SCCA Pro Racing Ltd. President and CEO Tom Campbell has announced his intention to retire later this year, and the company has named former Honda Performance Development chief Robert Clarke its new president.
Clarke joins SCCA Pro Racing after leading Honda Performance Development (HPD) for 15 years, from 1993-2008. Clarke began at Honda in 1981, before starting HPD as a ground-up operation, establishing organization, facilities, policies, procedures and developmental goals. As its president and CEO, Clarke developed HPD into a world-class motorsports research and development business, also winning six manufacturer championships, eight driver championships and 123 wins in top domestic open-wheel series and sports car racing.
Clarke's motorsports roots started with SCCA, attending his first race with his father in 1959, establishing a base that would drive his racing passion, both in business and as a participant, for the next 55 years.
"I am very excited to work with SCCA, as it is an opportunity for me to give back to the sport where my passion for racing started," Clarke said. "I look forward to use the skills, expertise and experience I gained at Honda and to help SCCA, as a whole, venture into some new directions to become more contemporary and relevant for today's society and automotive enthusiast."
Campbell, a former Chairman of the Board of Directors of both Sports Car Club of America, Inc. and its subsidiary, SCCA Pro Racing, was named interim President and CEO of SCCA Pro Racing in January 2011. Campbell agreed to remain in the position full-time, with a focus of bringing stability to the organization.
"The business of professional racing is a challenging one, and I am happy to say that SCCA Pro Racing is on sound footing and primed to begin a successful next chapter," Campbell said. "It was never my intention to have a long tenure with SCCA Pro Racing, but rather to position it for future growth. Robert brings the professional motorsports industry experience and skill set we need to realize our full potential. I look forward to working closely with Robert over the coming months."
Campbell will remain with SCCA Pro Racing as Chief Executive Officer throughout the transition, with Clarke starting as the new president immediately.
In addition to serving as SCCA Pro Racing President, Clarke will also work closely with the parent company, SCCA, Inc., in business development.
"Robert brings a tremendous background and new perspective to our overall business," SCCA, Inc. President and CEO Lisa Noble said. "SCCA, Inc. and SCCA Pro Racing, will greatly benefit from his contributions. We look forward to working with Robert and the opportunities his involvement will bring to both companies."
About SCCA Pro Racing
A wholly owned subsidiary of Sports Car Club of America, Inc., SCCA Pro Racing Inc. is a leading sanctioning body for professional motorsports events in the United States. A member of the Automobile Competition Committee of the United States (ACCUS), SCCA Pro Racing sanctions and provides a variety of operational services for the Pirelli World Challenge Championships, the Trans Am Series, the Mazda MX-5 Cup, the Formula 1600 and 2000 Championship Series and Formula Atlantic Championship. For more information, please visit http://www.sccapro.com.