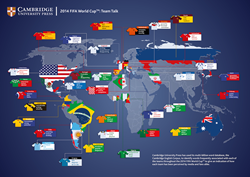 New York, NY (PRWEB) July 12, 2014
Experts at Cambridge University Press (The Press) have analyzed and assessed millions of words relating to the 2014 FIFA World Cup™ in Brazil to find words frequently used to describe each of the 32 nations.
Using the Cambridge English Corpus, a multi-billion word database of written and spoken English language from a huge range of media sources, the Language Research team at Cambridge has identified the words most typically associated with each of the teams throughout the tournament to give an indication of how each team has been perceived by media and fans alike.
With the curtain coming down on proceedings this Sunday, it's perhaps no surprise that the powerful, focused and committed Germans made it to the showpiece showdown in Rio after demolishing hosts Brazil in Belo Horizonte, while opponents Argentina are seen as the underdogs. Although the South Americans have been playing with confidence and flair, their performances have been seen as unconvincing on their route to the final.
The final proved a step too far for hosts Brazil, crashing out in spectacular fashion after a 1-7 defeat to the Germans, and the weight of the nation was clearly on their shoulders with 200 million people behind them. With the Seleção proving to be extremely popular, it was inevitable that players were going to be emotional in front of the home crowd in a desperate attempt for their first World Cup triumph since 2002. The Netherlands' performances had seen them described as rampaging, stunning and strategic before their underwhelming exit from the competition last night.
With the US bowing out in the last 16, feelings towards the team were positive with the three most often used words to describe the team being determined, heroic and courageous.
However once the US were knocked out, the media took other nations to heart, particularly those in Central and South America. Colombia, arguably the darlings of the tournament, were seen as unpredictable, exciting and attacking on their way to the quarter-finals. Surprise package Costa Rica were also viewed as being dynamic and contenders, while their pace was also noted. After 120 minutes of frantic football against Belgium, the USA team certainly caught a few eyes with their determined and courageous attitude throughout the tournament, large parts of which were down to Tim Howard's heroic performance.
Some teams which didn't fare as well were, unsurprisingly, Uruguay, with bite and disgrace associated with them following Luis Suarez's well-documented on-field antics, while 2010 champions Spain, who exited at the group stage, were described as poor, humiliated and defensive.
Dr Claire Dembry from Cambridge University Press said, "The breadth of sources we've analyzed over the course of the tournament means we're able to give a unique insight into the mood surrounding each team."
"Examining the Cambridge English Corpus and seeing how the media portray the various competing nations has given us an interesting insight into how national identity and stereotypes have been played out in the media."

For further information, please contact:
Adam Tuckwell – press(at)cambridge(dot)org
Supporting infographic:
Illustration of the words used to describe each of the 32 teams in the 2014 FIFA World Cup™ Final.
Notes to editors:
Words for each team are broken down below:
Team Word 1 Word 2 Word 3
Algeria determined pride together
Argentina confident flair unconvincing
Australia positive effort spirited
Belgium flair dark horse talent
Bosnia and Herzegovina injustice defensive forceful
Brazil emotional popular desperate
Cameroon hapless battle chaotic
Chile attacking tactical thrilling
Colombia unpredictable exciting attacking
Costa Rica dynamic pace battle
Croatia dangerous tactical competitive
Ecuador inconsistent strong potential
England exciting inexperienced disappointing
France organised defensive exciting
Germany powerful focused committed
Ghana money strike physical
Greece defensive cautious stubborn
Honduras spirit physical robust
Iran defend hope drought
Italy slow vulnerable pessimism
Ivory Coast pace physical struggle
Japan possession disappointing frustrated
Mexico determined tactical talented
Netherlands rampaging strategy stunning
Nigeria inexperienced speed tough
Portugal frustration ego disappointing
Russia drab error mediocre
South Korea woeful failure embarrassing
Spain defensive poor humiliation
Switzerland pace difficult talented
United States determined heroic courageous
Uruguay bite disgrace do-or-die
About Cambridge University Press:
Cambridge University Press is a global leader in language research and education. With over 450 years of experience, their research and expertise are unique and renowned across the world
The Cambridge Corpus is a multi-billion word database of written and spoken English language extracted from a range of print and online media sources
Cambridge University Press has gathered data of the 32 nations containing millions of words from over 15,000 football-specific online sources during the 2014 FIFA World Cup™ to extract the three most commonly used adjectives to describe each team
They have analysed the words used to describe each nation's players, manager, team and performance
For interview requests:
Cambridge University Press is able to put forward academic professionals for interview requests.