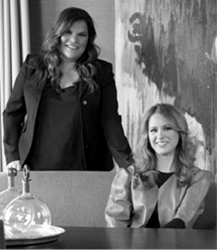 Chicago, IL (PRWEB) July 14, 2014
Haute Design welcomes Georgeann Rivas and Stephanie Wirth of Leo Designs, Ltd. as the newest network members. For more than a decade, Leo Designs, Ltd. has been known for working closely with clients to hone in on their desired aesthetic, creating varied, refreshingly original spaces.
About Haute Design Network
Haute Design Network of hauteresidence.com selects interior designers that have demonstrated a high level of expertise, professionalism, and accomplishment in their field. This elite circle of leading interior designers is encouraged to expose readers to several elements from past and current design trends as they provide a glimpse into future innovations, while offering both inspiration and exceptional resources for those seeking experienced luxury interior designers and sophisticated interior design firms.
Georgeann Rivas and Stephanie Wirth of Leo Designs, Ltd. are featured on Haute Design Network's comprehensive website as distinguished members alongside other leading interior designers from across the country. Network members have the exclusive opportunity to interact with viewers by utilizing the Haute Design Network platform via customized blog posts and unique design features. Visit the Haute Design Network at http://www.hauteresidence.com/design.
About Leo Designs, Ltd.
Leo Designs, Ltd. is a full-service design firm specializing in residential interiors, founded more than a decade ago by Chicago residents Georgeann Rivas and Stephanie Wirth.
The unifying thread in each Leo Designs project is an unwavering attention to detail. From the onset of each project to completion, no design element is neglected. "Naturally, we devote a considerable amount of time to interior architecture. What distinguishes us is the attention we give to the finishing touches and the layering of accessories which we feel give the home soul," says Rivas.
Leo Designs believes that a home should provide a glimpse into its owners' psyche by showcasing their personal style. Consequently, the firm's aesthetic is as varied as its clientele. Both Rivas and Wirth agree that the most gratifying part is exceeding their clients' expectations. "Interior design is about enhancing people's lives," says Wirth, "and that really is our primary goal."
For more information about Georgeann Rivas, Stephanie Wirth and Leo Designs, Ltd. visit their Haute Residence profile.