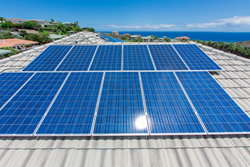 Rob's industry knowledge and well suited solar finance experience make him a great fit with Equal Earth
San Diego, CA (PRWEB) July 10, 2014
Equal Earth, Inc. a San Diego based diversified renewable energy company today announced that it has added Robison Godlove as Director of Sales and Acquisitions. Godlove is tasked with delivering growing asset capacity to Equal Earth's expanding renewable energy portfolio.
Godlove previously served as Director of Finance Programs for the largest solar distributor in the Americas, Soligent, where he led the successful creation and delivery of both residential and commercial solar leasing programs for the nations' largest solar dealer network. Soligent offers solar product distribution to more than 4,500 dealers, as well as dealer support services such as project financing, permitting and design, and materials management. Godlove's solar background spans nearly a decade and a half, holding various roles with the Oregon Department of Energy, Solar Assist, and Pacific Power and Rain.
"With Rob joining the Equal Earth team, we have added even greater depth to our solar expertise," stated Equal Earth Chairman, President and CEO Andrew Duggan. "Rob's industry knowledge and well suited solar finance experience make him a great fit with Equal Earth," added Duggan. Godlove added "I take pride in joining a company with such a strong strategic vision of leading the world towards a more sustainable future."
Equal Earth provides homeowners and business owners with easier and more cost effective energy solutions. Customers are able to have a clean energy system installed with no out-of-pocket costs to them. Instead of purchasing the system upfront, customers simply make monthly payments that are significantly less than what they are paying right now.
Cautions regarding forward-looking statements
About Equal Earth
Equal Earth is the premier clean energy solutions provider servicing commercial and residential customers in California, Colorado, Hawaii, Guam and Fiji. Our mission is to provide homeowners and business owners with an easy, straightforward alternative to the expensive utility rates they currently pay. Our customers enjoy a fast, simple and streamlined approach to both grid-tied and off-grid solar systems and saving money without the burden of any upfront costs. Equal Earth capitalizes on target opportunities in under-served energy markets, efficiently delivering clean energy solutions with a focus on customer satisfaction. For more information, visit http://www.EqualEarthCorp.com