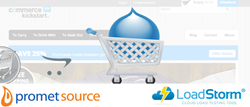 Measuring what impacts eCommerce performance translates directly to our clients' bottom lines.
Chicago, IL (PRWEB) July 15, 2014
Promet Source, a Chicago-based Drupal web development and support firm has relied on the load-testing tools and services from LoadStorm to optimize web application for their clients. Clients depend on Promet Source to deliver an optimized website: sites that download and display content quickly. This speed is important not just on the homepage, but also on subsequent pages, during transactions & registrations, in user portals, and on the administrative side of the website.
According to the National Center for Biotechnology Information, U.S. National Library of Medicine, and The Associated Press, in 2013, the average adult attention span was 8 seconds. "The digital implication of our attention spans being less than that of a goldfish is that speed is king. If a site wants to engage a user, it has 8 seconds to do so. Website Performance Optimization seeks to ensure your site delivers content and functionality as quickly as possible - well before the 8 seconds elapses," said Maggie Graham, Marketing Manager at Promet Source.
Promet Source implements a combination of tools including LoadStorm to test sites to confirm that applications can deliver during traffic spikes, multi-user log-ins, database stresses, etc. LoadStorm allows Promet Source to simulate multiple users accessing a website simultaneously to understand where there are issues. "There are many variables that impact web performance including servers, hosting platforms, caching, code execution, proxies, and more. LoadStorm and New Relic allows us to gain insight into where, when and why there is failure so we can correct the issues prior to launch. These tests even allow us to pinpoint the precise functions that are the most expensive to execute," said Greg Palmier, Systems Administrator at Promet Source.
With such a commitment to delivering sites with strong performance, Promet Source collaborated with LoadStorm to perform experiments on "out-of-the-box" Drupal Commerce distributions on a standard, Amazon server. "We chose to test Drupal Commerce inspired by the truism 'Time equals money'," said Andy Kucharski, Promet Source President, "Measuring what impacts eCommerce performance translates directly to our clients' bottom lines."
The experiments sought to determine how to make Drupal Commerce scalable and faster. LoadStorm replicated the script (a recorded session of a user performing common tasks) across numerous scenarios to test different variables and configurations. Caching, module implementations, and proxies were added and subtracted to measure their impact on performance. "My hypothesis was that certain modules would prove to be bottlenecks in performance because of poorly written SQL queries," said Scott Price, Vice President of LoadStorm, "After a series of tests, it was evident that caching is fundamental to performance. Reverse proxy had little impact when made in conjunction with other caching mechanisms."
The detailed results and data from this series of experiments will be presented in an upcoming Promet Source Webinar entitled "Myth Busting Website Performance - Investigating Actual Improvements of Popular Fixes" on July 22nd at 10:30 a.m., Central. The webinar will be hosted by Promet Source President, Andrew Kucharski and LoadStorm Vice President, Scott Price. Drupal users, SysAdmins, Project Managers, and those who manage Drupal sites are encouraged to attend. A recording of the webinar will be available to registrants after the event. Registration for the webinar is available here.
"To put it simply, our findings prove that all deployments are not created equal and require good execution. The ability to leverage some caching and make the code flexible and lean will impact success greatly." - Greg Palmier, Systems Administrator at Promet Source.
About LoadStorm:
LoadStorm lets organizations know for sure how many users your site can handle. It measures many aspects of speed and scalability with realistic traffic patterns, so companies can prepare for large spikes in visitors.
Don't be like Healthcare.gov! Be ready for the storm; if your site slows down your conversion rates decrease - and you are losing money. A faster site makes more money. LoadStorm helps you get there.
About Promet Source:
Founded in 2003, Promet Source is a leading interactive development firm that implements open source tools (specifically Drupal) to deliver high-value web and mobile application development & support. Promet offers a turn-key solution delivered by experts in the field: sprint 0 planning (Agile concept development), design, architecture, development and deployment. After deployment, Promet provides ongoing support & maintenance. Our consultants have deep technical expertise and are recognized as leaders within the Drupal community. Promet serves clients globally across multiple industries-specializing in government, higher education, non-profits, start-ups, healthcare and professional services.