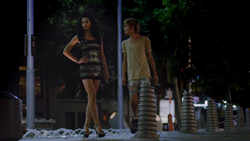 Los Angeles, CA (PRWEB) July 15, 2014
On July 1st, the California Film Commission announced that there will be 26 recipients of the $100 million Film and TV Tax Credit funding program. Out of the projects chosen, 11 are independent films. NewFilmmakers Los Angeles is an organization that celebrates independent movie makers. This month, NewFilmmakers will be showcasing eight short films and one feature-length film, six of which were filmed locally in Los Angeles.
Learn more information about the films showing on July 26th at the NewFilmmakers LA Film Festival below:
CRY NOW – Director Alberto Barboza
A restless street artist determined to find the pulse of the city embarks on a journey where a muse, a wise woman, and a lone wolf help him reveal it.
Director Alberto Barboza met the rest of his crew at UCLA 15 years ago. They have since then founded Cinetico Productions, a production company with the clear goal of bringing stories about Chicanos and Latinos to the forefront. Many other factors make Cry Now stand out including the film's original artwork, which was designed by world-renowned graffiti muralist El Mac, and the music, which was composed by prominent independent LA-based bands. Lead actor Miguel Angel Caballero is best known for his recurring role on General Hospital. He also recently appeared in the Lifetime movie, We Have Your Husband. In Cry Now, we see Mrs. Lupe Ontivero's (Picking Up The Pieces, As Good As It Gets, The Brave) last performance. The film is dedicated to her memory.
FOUR QUEENS – Director Noel Douglas Orput
Four friends play poker and wind up making a bet on who would pass as the most believable woman.
The films stars Daniel Guzman (Criminal Minds, The Closer, My Sister's Keeper), Marcus Choi (The Last Ship, Community, Revenge), Robert Orosco (CAMP), Jai Rodriguez (Queer Eye for the Straight, Malibu Country) and director Noel Douglas Orput (Jesus Chris Superstar, Aladdin! A Musical Spectacular).
SOMEBODY'S MOTHER – Director Mandy Fabian
Maggie has her pristine Christmas hijacked when her sexually liberated mother brings her new boyfriend home to meet the family.
Sharon Lawrence (NYPD Blue, Rizzoli & Isles, Drop Dead Diva), Christine Lakin (Veronica Mars, Melissa & Joey, Step by Step), and Missi Pyle (The Artist, Charlie and The Chocolate Factory) star in this comedy directed by Vassar graduate Mandy Fabian. Mandy earned the Top Female Filmmaker title at the Chicago Comedy Film Fest with her short film Killing Vivian. "Somebody's Mother" is Mandy's newest short film, and besides NewFilmmakers LA the film also played at the Palm Springs International Short Film Fest.
THE FALCETO JAZZ CLUB – Director Daniel Luke Rogers
A gay teenager is seduced into a homosexual cult, run by villainous Drag Queens. Based on true events, The Falceto Jazz Club recounts the life of cynical and cigarette addicted teenager Lynden Davis and his unconventional love for drag queens.
Award winning film director and Australian native Daniel Luke Rogers is best known for his film Untitled Film: 44, which was highly praised by The European Independent Film Festival.
THE PROPOSAL – Director Jason Silva
The Proposal is a heart-wrenching and awkward performance of a boy and a girl who give eyebrow raising proposal speeches, presumably to each other.
Actor Richard Bain made a name for himself in Portland with his stand-up comedy. He is also part of the Decision Makers Penthouse, whose videos have been featured on Funnyordie.com and The Tonight Show with Conan O'Brien.
THE USUAL – Director Dawn Higginbotham
During a time of uncertainty, a well-to-do couple is shown a kindness from someone most unexpected.
Director Dawn Higginbotham got her start in filmmaking by working as a production assistant on films such as Titanic and Godzilla. She also worked as a post-production supervisor on Star Wars Episodes II and III. The Usual stars Renee O'Connor, who is best known for her work on Xena: Warrior Princess and Ark.
TWO PENNY ROAD KILL – Director Lisa Rose Snow
Two Penny Road Kill tells the story of a solitary man, Lou, who works for the city cleaning up road kill. Lou is a vegetarian who takes pride in sending his furry comrades to the other side with grace and care. One day, he finds a mysterious purple high heel under a raccoon. His quest to find the shoe's owner leads him to an unexpected connection with a women who is just as quirky and solitary as he is.
Two Penny Road Kill has been shown at a number of film festivals including the ACTRA Maritimes where Shelley Thompson won for best actress in October 2013, and Daniel Lillford was nominated for Best Actor. The film also won Best Canadian Short at the Silver Wave Film Festival. Director Lisa Rose Snow recently was awarded a Women in Film and Television Wave Award.
WAY IN RYE – Director Goran Stankovic
During the German invasion of Soviet Russia, a humble farmer and his wife must protect a crate of five priceless paintings evacuated from Leningrad while waiting for news from their son, a soldier fighting on the Eastern front.
Serbian director Gorna Stankovic is best known for his student films Who Guards the Guardians and Old Mountian, which were selected to be featured in over 50 international film festivals and won 17 awards. He recently received his MFA in directing at AFI with Way in the Rye as his thesis film.
THE FIGHTER'S ROOM – Director Slav Zatoka
The Fighter's Room is a documentary film following a 32 year-old female boxer, Nadja Ropac, who turns her love of boxing into a professional career. She trains in the famous La Habra boxing club under the careful eye of David Martinez, a decorated war hero and the director of an open door La Habra Boxing Foundation that has produced champions like Librado Andrade, Julio Gonzales and Enrique Ornelas. Making her fight debut, Nadja enters the competitive world of male-dominated professional boxing.
Located in Downtown LA, AT&T Center is the Presenting Venue Sponsor of NFMLA. Founded in 2007, NFMLA has screened over 800+ films from over 51 countries. NFMLA boasts over 20,000 supporters locally. The organization provides a forum where filmmakers can be recognized with title supporters Sony Pictures Entertainment, SAG-AFTRA and LA Weekly.
For information or to purchase tickets to the NewFilmmakers LA July 26th screening, please visit http://www.newfilmmakersla.com.