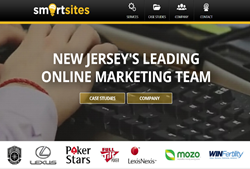 Englewood Cliffs, NJ (PRWEB) July 11, 2014
SmartSites (http://www.smartsites.com), New Jersey's leading online marketing company, is excited to unveil its newly redesigned website. The redesign of SmartSites was initiated to accurately highlight its vast expertise in many areas of online marketing. Through its new website, SmartSites shows a clear understanding of the marketing needs of small businesses. The relaunched website is available for public viewing and accessible to businesses who seek online marketing help from an enthusiastic and dedicated website team.
SmartSites strives for better user experience as shown through its reorganized service pages, complete with clear categories and descriptions of each service provided. The chosen logo of a brain inside a light bulb epitomizes ongoing hard work and determination in the creation of quality webpages. The new SmartSites website showcases its large repertoire of accomplishments by listing a wide range of clientele who provide their praise in detailed testimonials. For instance, when asked about his experience with SmartSites, a New York business owner replied, "We could not have found a better team to work with than SmartSites. They are very knowledgeable and always provide us with fast and efficient service."
The new SmartSites website represents versatility in the vast field of web design and online marketing. SmartSites uses digital features such as videos and interactive icons that allow businesses to better envision the people they will be working with. Its "Meet the Team" pages show personality by displaying the staff's wide range of professional and personal interests, helping to put a friendly face to a name and title.
About SmartSites
SmartSites, originally known as Melen LLC, was started by brothers Alex and Michael Melen in April 2011. Alex and Michael combined their knowledge of building websites and passion for helping others succeed in their businesses. Together with a team of web developers, web designers, writers, and marketers, Alex and Michael work hard to ensure optimal results at an affordable price.
SmartSites is an online marketing company based in Englewood Cliffs, NJ. The team at SmartSites will take care of your business's website needs, whether it be SEO, link building, or re-building a website from scratch. SmartSites works with businesses from a variety of disciplines and areas, from a Bergen Country luxury real estate business to a New York-based aesthetic medical spa.
For more information, please visit http://www.smartsites.com or call the office at (201)870-6000.