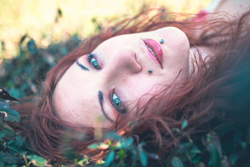 "A rocker with the spirit of Joplin and the heart of a poet" (Crave Online)
New York, NY (PRWEB) July 10, 2014
Meghann Wright, Brooklyn-based songstress and founder of one of New York's top artist advocacy organizations, has premiered her latest singles "Can't Carry Water" and "Cocaine" via top tier sites American Songwriter and Bitch Magazine. The Sultry and self-confident Hawaii-native continues to build anticipation for the July 29th release of her self-titled EP with the premiere of the music video for "Cocaine" on Crave Online, while offering the single as an exclusive download on Reverbnation.
Wright is the founder of The City & The Heart, one of New York's top advocacy organizations supporting independent female artists. From hosting showcases that raise money for women's shelters to producing a compilation album with engineer Will Hensley (Regina Spektor, Coldplay) featuring local female artists, Wright proves she is not only "a smart songwriter" but also that "she's got a point to make" (Bitch Magazine). Her mission, in her words, is "to help women - and I intend to do my best to grow The City & The Heart into something that can truly give back to the city that made it possible." The City & The Heart can be experienced live at New York City's The Bitter End on August 23rd.
Having played countless shows around New York, including a successful run supporting musical luminaries Jon Langford, Lisa Loeb, and Nikki Lane, Wright is quickly gaining a reputation for her "fierce and dynamic R&B/Soul voice" (Music Box Pete) and her impassioned stage presence which can be felt and heard next on July 12th at Ray Kelly's in Bridgeport, CT. Wright also plans to do a live performance online through Stageit on July 22nd.
Wright is taking her fearless image to the next level with her first official video for "Cocaine" , which depicts the singer in her natural habitat - rocking smoky New York City nightclubs, doing shots with rowdy friends and sashaying home at sunrise. The second single from her forthcoming self-titled EP, "Cocaine", follows up her heartfelt first single, "Can't Carry Water," which premiered in April on American Songwriter and is available via iTunes. The official video for Cocaine premiered July 9th on Crave Online.
With such fervent support from her local community of musicians and rave reviews piling up from the press, Wright is poised for national prime time when she releases her new EP later this summer.
"A rocker with the spirit of Joplin and the heart of a poet" (Crave Online)
"[Meghann Wright] combines the ferocity of Janis Joplin with the tender grit of Dolly Parton….to display both a sensitive internal struggle and a a thrashing emotional voraciousness" (Nooga)
"The performer has carefully constructed her personal music to form an emotional rollercoaster, filled with both moody feints and gleeful turns that captivate anyone who tunes in" (Limerence Magazine)
Meghann Wright on Twitter
Facebook
Watch "Cocaine" video: http://vevo.ly/FqfEE3