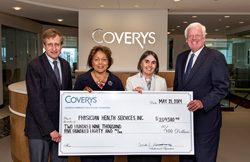 Boston, MA (PRWEB) July 23, 2014
Medical Professional Mutual Insurance Company and its subsidiaries ("Coverys") announced this week its continued financial support of Physician Health Services Inc., a nonprofit offering treatment and recovery services to our colleagues in the medical profession. Coverys has provided $209,580 to Physician Health Services for 2014, and has donated in excess of $1 million to the nonprofit over the last five years.
"We are proud to continue our longstanding support for Physician Health Services as a trusted resource for healthcare professionals," said Dr. Brenda E. Richardson, board chair for Coverys. "Its dedication to the early detection and treatment of mental and physical illnesses is a vital asset to healthcare workers."
Physician Health Services was founded by the Massachusetts Medical Society to identify and assist in the treatment of alcoholism and other substance-abuse disorders, stress-related illnesses, and behavioral concerns that may be related to the high demands of working in healthcare fields. The organization offers a safe environment for healthcare professionals to discuss the challenges of maintaining their own mental and physical health, as well as coping with financial pressures, administrative obligations, and the boundaries between work and family life. PHS has provided services to more than 2,200 physicians and medical students across Massachusetts.
Coverys provided 17 percent of total funding for Physician Health Services in fiscal year 2013.
"Coverys is pleased to be one of the main sources of financial support for Physician Health Services," said Dr. Donna Norris, chair of Coverys Charitable Giving Committee and director, board of directors of Coverys. "We are committed to assist worthy organizations providing unique services to the healthcare profession, and we are fortunate to have the resources to do so."
To learn more about Physicians Health Services, visit http://www.massmed.org/phshome.
For more information about Coverys, contact Loren LeVasseur, public relations specialist, at (617) 946-8665 or llevasseur(at)coverys(Dot)com.
About Coverys
Coverys is the eighth largest medical professional liability insurance provider in the country based on direct written premium. Coverys member companies insure more than 25,000 physicians, dentists, and allied healthcare providers, as well as more than 500 hospitals, health centers and clinics in 27 states from coast to coast. Coverys has net admitted assets of $3.4 billion and direct written premium of $363 million as of December 31, 2013. In addition, Coverys member insurance companies Medical Professional Mutual Insurance Company ("ProMutual") and ProSelect Insurance Company, as well as ProMutual-sponsored Coverys RRG, Inc. have a Best's Rating of A (Excellent). MHA Insurance Company and Washington Casualty Company have a Best's Rating of A- (Excellent), while OHA Insurance Solutions, Inc. is not rated at this time.
Coverys emphasizes physician education and patient safety, and the company is acknowledged as a leader in providing supportive risk management services and resolute claim defense to the healthcare community. For more information visit Coverys at http://www.coverys.com.