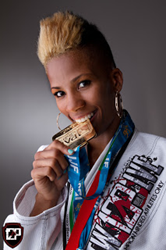 Las Vegas, NV (PRWEB) July 11, 2014
Lloyd Irvin Black belt Nyjah Easton became the first-ever Women's Champion at The Ultimates Submission Only Tournament in Las Vegas, NV on July 6, 2014. The tournament, hosted by Grapplers Quest and UFC, was held at the Mandalay Bay Events Center at the UFC Fan Expo. It was International Fight Week and the UFC held a series of events over the Fourth of July weekend in additional to the submission tournament.
Nyjah Easton was a last minute addition to the roster, being invited to the tournament on only a week's notice. Easton stepped up the challenge and flew to Vegas with teammate Sijara Eubanks. The tournament consisted of 16 women grapplers, all under 145 lbs. Nyjah Easton, and UFC #1 contender Cat Zingano were favorites to win the tournament.
Nyjah finished her first opponent via armbar in less than 4 minutes. Her next opponent didn't take much longer as Nyjah tapped her with a kimura lock. Nyjah was set to meet Cat Zingano in the semi finals, however Cat was forced to withdraw due to UFC prior obligations. Nyjah was then byed to the Finals that took place the following day.
On July 6th, the finale of the tournament, Nyjah met Jessy Miele. Jessy finished all her opponents in less than 20 minutes on her way to the finals. The finals match seemed to uneventful to the untrained eye, but there was a lot of action. Nyjah pulled closed guard and worked for finishes from there. Easton made several attempts at sweeps and armbars in the first 10 minute session without success. After both fighters were given a 1-minute break, the action restarted. Easton again pulled guard and went right back to working the Lloyd Irvin closed guard attack system. Reaching the 18 minute mark of the fight, Nyjah was able to transition to an armbar. Miele defended the initial attempt, but Nyjah was relentless in her attack, and finished the armbar.
Lloyd Irvin's Martial Arts Academy is located in Camp Springs, Prince George's County, MD. Lloyd Irvin first opened the doors of the Academy in 1996, and has since grown into one of the most prestigious, most sought after BJJ and MMA academies in the World. The Academy offers classes for Men, Women, and Children in BJJ, MMA, Muay Thai, Wrestling, Fitness, and more.
For more information on Lloyd Irvin's Martial Arts Academy, please visit http://www.lloydirvinlive.com, or call 301-449-KICK, lines are open 24/7.