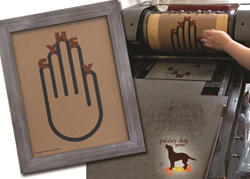 We're proud to be analog printers in a digital world, and grateful to our amazing customers that help us keep this art form alive.
Reading, PA (PRWEB) July 14, 2014
Paisley Dog Press, artisanal letterpress printers from Reading, PA, has partnered with the indie rock band Clap Your Hands Say Yeah (CYHSY) and singer-songwriter Alec Ounsworth to create a limited edition letterpress poster print for their 2014 concert tour. The production of the poster runs in conjunction with the CYHSY 2014 US tour in support of the June 3rd, 2014 release of the band's highly anticipated fourth studio album "Only Run," available on iTunes.
The poster features the band's acronym CYHSY placed above the fingertips of an illustrated hand, a clean and simple design iconic to the band's fan-base. It was produced using a two-color letterpress printing process with eco-conscious inks on post-consumer recycled chipboard. "Collaborating with other artists, no matter their art form, always makes our creative process more fun. We're proud to be analog printers in a digital world, and grateful to our amazing customers that help us keep this art form alive," says Janelle Paisley, Co-Owner and Printer at Paisley Dog Press. The limited edition and numbered letterpress prints will be available exclusively at the merchandise booth on each tour stop, while supplies last.
Alec Ounsworth formed CYHSY in early 2004, fostering their popularity and success through the Internet as opposed to signing with a record label. Their first self-titled album ClapYour Hands Say Yeah ignited endorsements from numerous well-established music blogs and indie rock Internet publications like Pitchfork, awarding CYHSY their "Best New Music" commendation. At their early shows, icons David Bowie and David Byrne were spotted hanging in the crowds and since, the group has slotted network TV appearances with the likes of Late Night With Jimmy Fallon. The group continues to tour worldwide amid their album releases and has been involved in side projects such as raising money for Art for Change, a non-profit social organization based in New York City.
Just as indie-rockers like CYHSY, whose divergence from commercialized rock created music that is more diverse, local and personalized, indie printers like Paisley Dog Press are now changing the commercial printing industry. "I don't think commercial printers understand why we want to purse letterpress considering that we are using these quirky cast iron printing presses, some over 100 years old, and such a labor intensive process. It seems most commercial printers are focused on being fast and cheap," regarded Shane Paisley, Co-Owner and Printer. "Instead our focus is on craftsmanship, eco-consciousness, consuming less power, sustainable materials and delivering a superior product. After all, indie means independent, independent of the constraints of someone telling us what-to and what-not-to do."
Besides posters, Paisley Dog Press also letterpress prints its own line of greeting cards, business and social stationery, custom and semi-custom wedding invitations, antique document reproduction, custom and commissioned works – specializing in printing with challenging designs and techniques. The shop is happy to work with designers and design firms, but also has an in-house design team to fully service its customers. "Today it's a lot easier to use email or text message, but when it's a special occasion and you really want something more personal and thoughtful, you send letterpress. That, and it looks damn good," says Shane.
CYHSY is currently touring throughout the United States through August 17 and will then proceed overseas for limited engagements in Japan and Europe before wrapping in Dublin, Ireland on October 13. For more information on CYHSY, please visit their official website at cyhsy.com or find them on social media outlets such as Facebook, Twitter, Instagram, Spotify, and YouTube.
About Letterpress Printing
Letterpress printing is a form of relief printing, that many credit its popularity to Johannes Gutenberg, practiced in the mid-15th century and was widely used until late in the 19th century. In simple terms, ink is applied to the design's printing plate then is pressed against paper to make a print and "impression." The finished piece has a tactile quality leaving a layer of ink in the indentation where the design pressed against the paper, giving it a textured look and feel. Letterpress is a labor-intensive handcrafted printing process and at Paisley Dog Press there's not a whole lot that separates their process from the one practiced over 500 years ago.