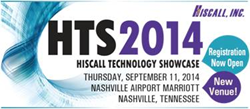 Dickson, TN (PRWEB) July 23, 2014
Registration is open for the Annual Hiscall Technology Showcase. Join Hiscall on September 11th at our new HTS venue, the Nashville Airport Marriott in Nashville, TN. For the past 6 years the Hiscall Technology Showcase has offered attendees a look at world-class communication technologies. While there are some exciting changes at HTS2014, our focus on communication solutions has not changed.
HTS2014 allows attendees to meet with manufacturer representatives of Telephony, Data, Cabling, Networking, Nurse Call and Audio Visual all in one location. Attendees are encouraged to pre-register at http://www.hiscall.com/HTS2014Registration.aspx but may also register at the door, beginning at 7:30am. Exhibit floor hours are 8:00am to 2:00pm and closed during lunch from 12:00pm to 1:00pm. Parking and admission are free.
Breakout sessions are led by Hiscall specialists with Q&A following.
9:00am - BICSI: The Standard in Infrastructure Education
9:30am – Managed Services/Hosted Solutions: Get Your Head Out of The Cloud
10:00am – Security: Secure Your Surroundings
10:30am – Video Conferencing: Enhancing Collaboration to Collaboration to Create A Winning Formula
11:00am – Digital Signage: Do You Want to Make An Impact?
Mark Beecham is HTS2014 Lunch Keynote Speaker. Mark has written several books and holds degrees from Martin Methodist College, Asbury Theological Seminary and Hebrew University in Jerusalem. After serving as a pastor/youth pastor, Mark developed No X-Cuse! Seminars LLC, a motivational and life coaching business. He is currently writing his third book, Wisdom from the Rearview Mirror. He has been able to share these principles by speaking nationally and internationally.
Mark's address "Flyin' with Clipped Wings" will encourage attendees to strive to greatness. Mark describes it as "a brief motivational exercise which engages the audience in three critical areas of their lives: expectations, words and actions. Quoting Henry David Thoreau, "Men (and women) were born to succeed, not fail."
Stop by and experience the latest and greatest in business communication technology, in one location. Learn more and register at http://www.Hiscall.com/HTS
About Hiscall:
Since 1995, Hiscall has provided experienced technicians paired with creative solutions to bring exceptional service to our customers. From sales professionals to certified design engineers, project managers, and support personnel, our team can evaluate your needs and present you with a comprehensive package encompassing Telephone Systems, VoIP, Structured Cabling, Data Networking, CCTV, Audio Visual and Nurse Call. Hiscall's partnering with a wide range of manufacturers allows customers to select from a diversified portfolio of products. With the expertise to design, implement and maintain customized projects, Hiscall is capable of exceeding the requirements of any size project – small, medium, large or multi-location. Our success lies in the continually expressed satisfaction and referrals of our loyal customers.