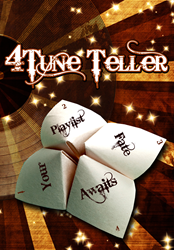 What really makes this app unique is the ability to extensively search through the user's existing music.
Paris, France (PRWEB) July 23, 2014
Lavelle Dynamic has launched 4Tune Teller, an Apple mobile application that makes it infinitely easier to mix and combine existing music into playlists. Similar to an Origami game, the app creates a unique, tailored playlist based on the user's listening preference. In addition, the app will recommend songs and provide a free download every several months from an individual artist or band hand-picked by the 4Tune Teller team.
"Music motivates me but I need different songs for different activities. So what I listen to when I run is different than the music I need for yoga. This app allows me to create playlists based on my mood or activity and it's very simple and easy to use", states police officer and avid 4Tune Teller user, Brent S.
Unlike other music applications in the market, 4Tune Teller works specifically with the user's pre‐existing, purchased music. Starting with song, genre, artist or keyword, the app provides three levels of choices and shuffles to provide additional selections based on the user's answer at each level. 4Tune Teller then presents a playlist that matches the user's listening needs.
What really makes this app unique is the ability to extensively search through the user's existing music. For instance, the user can choose music from artists with one, two or three words in their name, songs that are rated or unrated, songs or artists with specific keywords in their name, and many other unique combinations. The app displays songs that fit the user's search criteria and desired playlist count settings.
Features of 4Tune Teller Include:

Various keyword searches and combination searches by genre, artist name, or song title
One to 500 songs per playlist
Keyword customization
Automatic save of playlist option
Free Music Download (ongoing) and criteria-based recommendations
"The idea for 4Tune Teller was conceived based on the classic origami game from my childhood, called the "fortune teller". I envisioned a similar selection process in choosing music. Based on my choices, it would play the appropriate music for the fortune it just gave me. For hopeful scenarios, the song would be something like "Love Song" by The Cure, or for less fortunate outcomes, "Love Bites" by Def Leppard. I've brought those ideas to life to help with the indecision that we all face when choosing music based on our activity," said Founder, Daniel Lavelle.
4Tune Teller is available on iPhones, iPads, and iPod Touchs from the App Store under Lavelle Dynamic or by searching 4Tune Teller.
About Lavelle Dynamic
Lavelle Dynamic is an innovative application concept company headquartered in Paris, France. Founder Daniel Lavelle is an avid music, technology and socialjunkie who has traveled the world listening to and collecting music from California to Australia to the far reaches of Europe. He has a passion for discovering independent artists with unique sounds and talents and utilizing technology to connect artists with users who want the thrill of a new discovery. 4Tune Teller is the first app in their lineup with more currently in development.