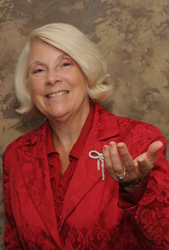 Jump into action and create a job.
Daytona Beach, FL (PRWEB) July 17, 2014
Unemployed people can employ themselves. A universal law, the 80/20 rule, predicts that each person has an amazing skill. Dr. Betsy Kruger's new book shows how to profit from this skill by starting up a business.
"Dr. Kruger has laid out an easy-to-use process for growing top customers in any business," confides Robert Iocco, CPA, CIC, CEO, Trustpoint Insurance, Bristol, VA.
Dr. Betsy Kruger's new book, "Aesop's Keys to Profitable Marketing" coaches unemployed people to quit searching for a job and create a job. The publisher is Publishing Directions LLC.
Dr. Betsy Kruger's book explains how unemployed people can profit from starting a business. The chapters update tales by Aesop, relate his wisdom to marketing, and show how to adapt each key to use a person's unique skill.
Chapter 12 of "Aesop's Keys to Profitable Marketing" summarizes how an unemployed person can start a profitable new business. In a vignette, two distributors meet at Starbucks to enjoy their lattes.
The mentor asks, "How is your prospecting coming along?" The novice responds, "I've learned that quality, not quantity counts."
"How did you prune your list?" "I calmly analyzed my key customers. Haste makes waste. I go farther by using my own gift. A friend did the analysis for me. I'm as good as my word."
"Did you interview the most profitable twenty percent of your customers?" "I'll use different strokes for different folks." "I didn't realize that utility is the test of worth. Their purchase process is slow but sure. I'll quit trumpeting about our products and services."
"Did the traits of your key customers help you identify your key prospects?" "Their example was my precept. My key customers can save me in a time of trouble."
"Were you able to convert key prospects into highly profitable customers?" "Oh, yes. I spent money promoting to my key customers. Unused possessions create no good."
The mentor dashes off to an appointment. Looking up, the novice notices Aesop. "Your insights made all the difference." With a nod of his head, Aesop vanishes into thin air.
This vignette relates to a tale by Aesop. A man practices for the Pentathlon, but his fellow citizens consider him unmanly. The man escapes their teasing by traveling abroad.
When the man returns, he boasts about performing remarkable feats in various countries. He brags that his long jump in Rhodes was better than the winner of the Olympic Games. "Just go to Rhodes and ask them. Everyone will tell you it's true."
A bystander says, "If you can jump that well, we needn't go to Rhodes to prove it. Let's just imagine for a moment this is Rhodes and now—jump!"
Aesop states that talk is superfluous when actions can prove the truth. He encourages "deeds, not words."
The bystander challenges the traveler to prove the truth of his boast by jumping. Likewise, the predictions of the 80/20 rule seem like empty boasts, but prove their truth by taking action.
When combined, the twelve key marketing decisions encompass all components of a strategic marketing plan. Each decision applies the 80/20 rule to a business and clarifies how to multiply profits.
Dr. Kruger's mission is to ignite the engine of prosperity with her message. She conveys twelve ways any business can profit by using the 80/20 rule.
After selling her software worldwide, she provided consulting to many corporations and coached over 2000 start-ups to succeed. Her first book, "Top Market Strategy: Applying the 80/20 Rule," enriches graduate marketing courses. She owns Strategic Power, a marketing consultancy rated A+ by the Better Business Bureau and certified by WBE and WOBE.
Dr. Betsy Kruger coaches business leaders and speaks to associations and businesses. She is an expert source on the topic of marketing for small businesses and start-ups. Please contact her for more information.