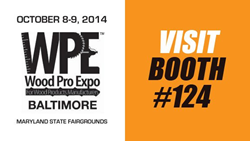 Rogue River, OR (PRWEB) July 12, 2014
The Wood Pro Expo (WPE) in Baltimore, Maryland hosts a variety of products designed to assist woodworkers in finding the best tools, products and companies for their crafts and professions. Wagner Meters will be attending this year with its line of moisture measurement systems and handheld moisture meters.
Wagner Meters offers moisture measurement solutions with something for every level of woodworking hobbyist and professional. Along with large systems for wood products manufacturers, Wagner offers a complete line of non-pin, accurate handheld moisture meters utilizing Wagner's IntelliSense™ technology, which ensures that non-absorbed surface moisture does not skew the accuracy of the moisture measurement in the wood.
"We are proud of our wood moisture meters," said Ron Smith, Sales Manager for Wagner Meters. "They are proven accurate, and offer more convenience and options for wood products manufacturers and woodworkers at all levels."
To experience Wagner Meters' line of wood moisture meters and systems and learn the latest in wood moisture measurement technology, visit booth # 124 at Wood Pro Expo in Baltimore, Maryland, October 8 – 9, 2014.
For more information visit Wagner Meters Woodworking.