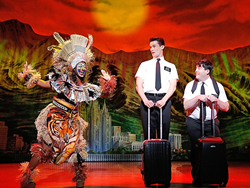 Denver, Colorado (PRWEB) July 11, 2014
Entertainment is big business in America. In fact, according to the most recent data published by Forbes, Americans spend almost as much on entertainment as they do on health care: 5.6 percent of their annual income for those hot tickets versus just a bit more at 5.9 percent for that crucial coverage.
But hey, all work and no play right? There's family and friends to spend memorable moments with: rock concerts to hit, big ball games to catch, blasphemous Broadway plays to ponder, movies to be marveled at, restaurants to try. When it comes to memories to be made, the list goes on and on.
The most recent cumulative data, now roughly 11 years old, indicates that in 2004, Americans spent $705.9 billion on entertainment, a figure equivalent to the entire gross national product of Canada -- or Australia, for that matter at the time. These estimates come from Unity Marketing Group, of Stevens, Pa.
"So far in 2014, The Book Of Mormon has sold $10,410,542 in tickets on the exchange, while Luke Bryan comes in at $9,295,042, Katy Perry at $9,001,245, Paul McCartney at $8,365,108 and Wicked at $8,099,563," said Felina Martinez at online discount ticket marketplace BuyAnySeat.com.
"That's why we're proud to be able to offer fans the most complete and continuously refreshed selection of discount sports, concert and theatre tickets online, with a Worry-Free Guarantee to protect their purchase," added Martinez.
"To access the full line-up of discount tickets we have available, as well as all of the other seating options at each venue, fans can go to BuyAnySeat.com and search for event or performer – then select their tickets."
Rounding out the top 15 sellers at the exchange are: Lee Brice at $7,794,370, Cole Swindell with $7,728,235, Bruno Mars with $7,348,166, Jason Aldean at $7,265,218, Fleetwood Mac at $7,245,340, Disney On Ice with $7,229,318, Jay-Z with $6,115,031, Florida Georgia Line at $5,842,861, Beyoncé with $5,830,547, and Beyoncé and Jay Z's latest On The Run Tour at $5,824,031 in ticket sales.
It is interesting to note that if these numbers were to be combined, Beyoncé would easily make the top five. Other leaders include FIFA World Cup soccer at 16th with $5,240,187 in ticket sales to date, the Eagles at 18th with $4,883,206 and the New York Yankees currently ranked 23rd with $4,631,639.
According to CreditLoan.com data, Americans currently spend 33.9 percent of their annual income on housing, 17 percent on transportation and 12.8 percent on food.
Silly, smart-mouthed, scandalous and shocking religious satire The Book of Mormon continues to attract flocks of faithful fans and has remained at the top of trending theatre sales ever since it opened at the Eugene O'Neill Theatre on Broadway in March of 2011.
The nine-time Tony Award winning musical is still playing to over 100% capacity at the O'Neill, while two traveling productions continue to tour the U.S. and are currently in Portland, Oregon and Detroit.
To shop for discount concert, sports and theatre tickets, visit BuyAnySeat.com. To save even more, enter coupon code "BAS2014" at check-out.
About BuyAnySeat.com: An online discount ticket marketplace, BuyAnySeat.com connects sports, theater and other live entertainment fans to an extensive network of ticket sellers worldwide. The site's simplified listings and navigational tools enable shoppers to easily locate, compare and purchase inexpensive, discounted or lower-priced tickets to virtually all advertised sports and entertainment events around the globe.
The ticket marketplace, which is PCI-compliant and Norton Secured, also provides customers with a complete Worry-Free Guarantee on all ticket purchases. Based in Denver, Colorado, BuyAnySeat.com is a subsidiary of Denver Media Holdings. For more information, please visit http://buyanyseat.com.