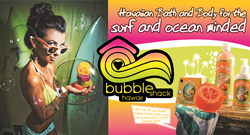 We are super stoked to open our first retail store in our hometown of Haleiwa.
Pearl City, HI (PRWEB) July 15, 2014
Bubble Shack Hawaii is set to open a new retail location within the recently restored Haleiwa Plantation Shops this September, offering their organic, Hawaiian bath and body products and other items that are ocean and reef friendly and convey the essence of an ocean lifestyle. The shop will be 402 square feet of space dedicated to all natural products that have the funky Hawaiian flair, while also featuring only natural and organic ingredients and materials.
This store will focus on innovative soap creations that are trademarked and unique to Bubble Shack Hawaii, as well as products from the company's other brands - Bungalow Glow Hawaii, and Bungalow Woof Hawaii. A special discounted soap program for kama'aina, or locals, will be implemented. Home fragrance and unique items that align with the surf lifestyle will also be available in the shop.
"We are super stoked to open our first retail store in our hometown of Haleiwa. We are even more excited to have all of our brands and products under one roof," states Holly Harding, co-owner of Bubble Shack Hawaii. "As a manufacturer and wholesaler of natural and organic bath, body and home products, a retail storefront will allow us the opportunity to test all sorts of new product concepts before bringing them to our primary wholesale customer base, thus allowing our direct retail customers the chance to benefit from a larger variety of product offerings."
The Plantation Shops, currently under renovation, make for the ideal location in Haleiwa. As historical structures, the renovations are aimed at preserving the integrity of the original design and retaining features, such as the original hardwood floors.
Learn more about these Hawaiian bath and body products at BubbleShackHawaii.com and be sure to watch for more information about the grand opening of this fresh new shop.
About Bubble Shack Hawaii:
Bubble Shack Hawaii, is based on the island of Oahu, Hawaii and focuses on natural and organic bath and body products, soy candles and organic dog wash products. Since 2005, Bubble Shack has been fulfilling the need for revitalizing products that are ocean and environmentally friendly.