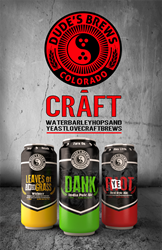 The fact that we've been able to launch three craft beers in nine months, coupled with a redesign for the brand, is unprecedented in the craft beer business. - Tom Hembree, CEO and Co-Founder
Aurora, CO (PRWEB) July 11, 2014
Dude's Brews has launched two new craft beer categories. Leaves of Lemongrass and Riot Red Rye Ale are available today at Dad & Dude's Breweria® in Aurora, and available August 1st in select restaurants and liquor stores. Dude's Brews has now brought three new craft beers to market in less than nine months, with three more planned by the end of the year.
The new craft beers are:

Dank IPA®—an India Pale Ale, currently the most popular style of craft beer in America
Leaves of Lemongrass—a light-bodied, Belgian-style Witbier, brewed with lemongrass, coriander and orange peel
Riot Red Rye Ale—spicy red ale brewed with rye and infused with Lampong peppercorns from Indonesia
Like all of Dude's Brews craft beers, Dank IPA®, Leaves of Lemongrass and Riot Red Rye Ale are exclusively made with native Colorado grains, giving Dude's Brews a flavor that is unique in the craft beer market.
The new offerings cap off a hopping nine months that have seen six significant milestones:
Successful fundraising efforts to the tune of $770,000 raised to date
Praise for Dude's Brews' beers with eight medals won in national competition
New, edgy beer can designs
Substantial production expansion
Increased distribution
Key staff additions
Successful Fundraising
In April, Dad & Dude's International, Inc. (DDI), the holding company for Dude's Brews, completed its first and second funding rounds totaling $600,000, and to date has raised $770,000. The funding for the Brewery is being used for:
Introduction of five new categories of craft beer into the Colorado market by the end of 2014: Leaves of Lemongrass and Riot Red Rye Ale, just introduced, and three currently in R&D by year's end
Scaling up Dude's Brews operations by expanding its craft beer output, hiring two outside sales reps and other sales and marketing initiatives
Praise for Dude's Brews' Craft Beers
Dude's Brews' craft beers have been awarded eight medals this year. Five medals came from All About Beer Magazine's World Beer Championships: Dude's Brews' flagship craft beer Dank IPA® won a silver; and Sleep When I'm Dead, Shot in the Dark Belgian Strong, Fathom, and Marilyn Belgian Blonde won bronze.
At the New York International Beer Competition, Dank IPA® and Liquid Resume Pale Ale won silver medals, while Toffee Porter won bronze.
Dude's Brews was honored among hundreds of international breweries who entered the competitions.
Edgy New Look
There is a new look for Dude's Brews' canned craft beers. Zenman Ad Agency in Denver helped to develop the design and branding for the cans for Dank IPA®, Leaves of Lemongrass and Riot Red Rye Ale. The edgy new design captures the rebellious spirit of Dude's Brews' owner and founder Mason "Dude" Hembree, who quit his corporate job to follow his dream of opening a brewpub with his father.
Notable Production Expansion
In order to keep up with the demand for Dank IPA®, Dude's Brews began "alternating proprietorship" (an industry term for sharing and alternating production within a brewery) with Rockyard Brewery, an established 15-year-old brewery in Castle Rock, Colorado. This partnership allows Dude's Brews to expand its production capabilities to an additional 2600 barrels per year per craft beer.
Partnering with Rockyard Brewery comes with the additional benefit of Brew Master Jim Stinson, known in the industry for his expansive knowledge of processes and ingredients. Stinson has been with Rockyard for 12 years. Rockyard also utilizes a state-of-the-art BrauKon brewing system, and has ample space to expand their production capabilities in the future.
Rockyard Brewery will be helping to produce Dank IPA®, as well as Leaves of Lemongrass and Riot Red Rye Ale. In addition, they will also produce our remaining three beers as they come online.
Increased Distribution
Dude's Brews' craft beers are now in 140 liquor stores and restaurants. Additionally, the company has hired two of its own sales representatives to introduce products into further restaurants and liquor stores.
Dude's Brews recently partnered with Republic National Distribution Company, which will enable distribution of Dank IPA®, Leaves of Lemongrass and Riot Red Rye Ale—plus three more craft beer creations by the end of the year—outside the state of Colorado. RNDC is the second-largest alcoholic beverage distributor in America, and distributes to 26 states. RNDC's distribution list includes well-known heavy-hitters like Red Bull, Jäger and Shiner.
Key Staff Additions
New key staff has been added to Dude's Brews who will help keep the expansion on track to the highest level of quality and creativity available. Brian Connery came onboard as Director, Brewery Operations in December 2013. Bill Eye has joined the team as Director, Quality Control, and will also serve on the Board of Advisors.
Brian Connery brings with him over 14 years of experience with some of the top craft breweries in the United States, including Dogfish Head Craft Brewery, New Belgium Brewing Company and Boulder Beer Company. He has won a total of 13 awards for his unique craft beers, including two gold and one silver and the Great American Beer Festival, and one silver at the World Beer Cup. His expertise in developing unique, popular craft brews will allow Dude's Brews to bring an ongoing supply of one-of-a-kind craft brews to the market; we will put that expertise to immediate use in developing the five new craft beers for Republic National.
Bill Eye has earned rave accolades and a devout following in the Colorado craft brew scene over his 17-year career. Mr. Eye's star-studded resume includes brewing with such heavy weight breweries as C.B. & Potts, Dry Dock Brewery and Prost Brewery, where he was also a co-founder. He has 33 medals for craft brewing, 12 of them coming from the most prestigious national beer competition "The Great American Beer Festival," where Eye won "The Brew Master of the Year" in 2009.
"Growth has been fantastic on many fronts, and the support and appreciation from investors, customers and the craft beer world has been astounding," said Dude's Brews co-founder and CEO Thomas Hembree. "The fact that we've been able to launch three craft beers in nine months, coupled with a redesign for the brand, is unprecedented in the craft beer business. Add to that our expanded production through Rockyard Brewery, our capable new staff and our distribution successes, and it's been a very successful year thus far."
On planned expansion of production and distribution, Hembree says, "Rockyard Brewery is outstanding, and they're a great partner to help us fulfill the increasing demand for our products. With Rockyard onboard, we'll be able to continue expanding our reach."
Dude's Brews Director, Brian Connery, says the best part of working with Rockyard Brewery is the opportunity to work with their Brew Master Jim Stinson. "They make excellent beer," says Brian, "and it has a lot to do with Jim: his experience, his education, his general knowledge of brewing process, as well as the ingredients and what they do and how to get what you want."
Hembree adds, "Part of the expansion process we're working on includes out-of-state distribution. We're currently working with Republic National to go beyond the Colorado market with Dank IPA® and our new beers, Leaves of Lemongrass and Riot Red Rye Ale. As part of our agreement, we'll add three additional new craft beers in the next six months."
Scott Klug, Beer Division Manager at Republic National Distribution Company, when asked why he courted Dude's Brews, says, "First and foremost, they just make good beers. And I love the energy of both Mason and Tom, the excitement that they have in their own product and in their restaurant and what they see themselves doing in the future." Klug says that after a senior company member met Mason Hembree, the senior member told Klug to "Hold onto that guy! We're going to ride his coattails on the way to success."
On the new key staff additions, Hembree says, "Brian Connery is an extremely talented guy, with 14 years of craft brewing experience in just about every aspect of production. The increase of quality of our beer has been very noticeable since he came aboard, not just by us but by our customers. He has brought the quality of our beers and recipes to a higher grade level, and has been able to increase efficiencies in the brewing operations. He's been able to make us a better brewing company, period."
Hembree says, "Bill Eye is a legend in the Denver brewing community, so when we had an opportunity to have him as a part of our team, we jumped at it, no questions. He's been bringing sensitivity testing to the brewery, where we get a bunch of brewers in to taste our beers, give us feedback and help us improve our current beers and our understanding of how to improve future beers."
"Dude's Brews is in fantastic hands, on track, and ahead of schedule," Hembree said.
About Dad & Dude's International Inc.
Dad & Dude's International, Inc. is the holding company for its subsidiaries Dad & Dude's Breweria®, LLC and Dude's Brews, LLC. The company, with its two subsidiaries, has positioned itself to take advantage of three of the highest growth trends in the food and beverage industries: a simple, full service, high energy, high margin, brewery and food restaurant; an on-premise brewery that creates exclusive in-house craft beers; and an alternating proprietorship for selling custom craft beer wholesale into liquor stores and restaurants.
Among other awards and recognition, Dad & Dude's Breweria® was voted Best Pizza by Mile High Radio in 2011, 2012 and 2013, besting over 100 family-owned pizza restaurants in Colorado. Additionally, Dad & Dude's Breweria® has twice been named Denver's Best Brewpub in the A-list awards, and reeled in over eight national beer awards in the World Beer Championships and the New York International Beer Competition. Dad & Dude's has an ever-increasing media presence, which includes coverage in local and national outlets like Fox 31, KDVR, The Denver Post, The Today Show and 5280 Magazine.