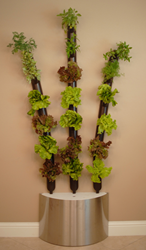 No more weeds!
Orem, Utah (PRWEB) July 15, 2014
https://www.kickstarter.com/projects/1203419233/hydroponic-indoor-wall-garden
Frustrated with the short harvest time of a traditional garden, Utah native Steve Fleischer created a garden that grows on the wall in his kitchen. The hydroponics garden, known as Simply Fresh Wall Garden, grows produce year round regardless of the weather outside.
"Everyone should be able to grow fresh produce no matter where you live," said Fleischer. "But a traditional garden only produces three months out of the year. I want my family to eat healthy all throughout the year."
Fleischer's wall garden design utilizes the traditional method of hydroponics growing, but adds his own flair to make a indoor garden work in any kitchen.
"Two big gardening frustrations I hear about is weeding and over watering," said Fleischer. "My design for the wall garden eliminates both of those problems."
The wall garden has two main components: a series of grow pods that house the plants, and nutrient-rich water that feeds the plants. The wall garden is self watering, constantly pumping nutrient-rich water to the plants, eliminating the chance to over- or under-water. Those two features make the wall garden accessible for even black thumbs.
In order to produce the wall gardens, Fleischer is raising funds through Kickstarter.com, the popular crowd-funding platform. The campaign begins Tuesday, July 15.
More information, visit the Simply Fresh Kickstarter page.