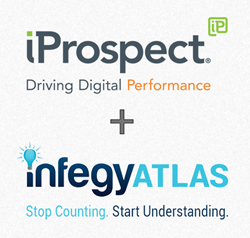 London, England (PRWEB) July 15, 2014
iProspect (http://iprospect.com), a leading digital performance agency and trusted business partner to some of the world's most powerful brands, has selected Infegy's (http://infegy.com) next generation social media monitoring software, Infegy Atlas, to provide social media intelligence for their digital team worldwide.
The partnership will provide iProspect with real-time qualitative and quantitative consumer insights capabilities for the company's clients. Ben Wood, iProspect's Global President, commented, "Infegy's unique ability to provide our global teams with instant insights into the minds of consumers provides additional firepower to our strategy and planning efforts. Infegy Atlas will provide our associates with the capabilities to better understand the changing language consumers use online in order to supplement our SEO competencies and develop organic search strategies."
Justin Graves, Infegy's CEO, stated, "The Infegy team has an incredible amount of respect for iProspect's focus on data-driven decision making. We're excited for our software to be a contributor to the innovative digital strategies iProspect implements."
About iProspect
For progressive leaders, iProspect is the trusted global partner in developing customized, performance-driven strategies that transform consumer intent into action and drive conversions. iProspect's offerings span the full spectrum of performance marketing including paid and natural search, performance display, content generation, analytics, social media management, and structured data and feeds. Since 1996, iProspect's client list spans many industries and includes Fortune 500 companies such as General Motors, adidas, Neiman Marcus, American Express, Mandarin Oriental Hotel Group, The Gap, and others. Representing a diverse global footprint, iProspect has 60 offices in 43 countries with over 1,900 employees. For more information, visit http://www.iprospect.com or follow us on Twitter @iProspect.
About Infegy and Infegy Atlas
Since 2007, Infegy's cloud-based technologies have been transforming huge volumes of dialog and commentary into valuable consumer insights. The company's flagship product, Infegy Atlas, is a social media intelligence platform that enables true understanding of consumers in the social landscape. It goes far beyond simply counting posts to give a deep understanding of why. Infegy Atlas is powered by algorithms that provide accurate and in-depth measures such as event detection, contextual sentiment, passion, topic extraction and thematic categorization. For more information visit: http://infegy.com.