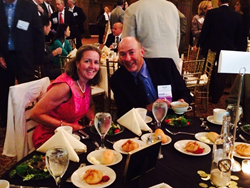 No one in our industry has more integrity or is more trusted than Joe Purcell
Marlton, NJ (PRWEB) July 10, 2014
The Philadelphia Business Journal today honored Joseph Purcell, The Michaels Organization's Chief Financial Officer, as its 2014 CFO of the Year (large company). The award, sponsored by the Business Journal and Drexel University, recognizes the region's top financial officers, whose successful leadership has been a critical underpinning of their company's growth.
Purcell, who serves as the CFO of all eight independent operating companies that comprise The Michaels Organization, was lauded for both his financial stewardship--and his unique ability to evaluate and manage risk—that have allowed The Michaels Organization to take advantages of new opportunities while remaining true to its core business principles.
Headquartered in Marlton, NJ, The Michaels Organization is a a family of companies dedicated to excellence in affordable, mixed-income, military and student housing. Since its founding in 1973 by housing visionary Michael J. Levitt, the companies of The Michaels Organization have developed more than 50,000 housing units in 34 states, the District of Columbia, and the U.S. Virginia Islands. Its current real estate portfolio is valued at more than $3.5 billion and its annual revenue neared $1 billion in 2013.
"Joe is entrepreneurial and seeks out and drives profit opportunities that align with our mission," said John J. O'Donnell, President of The Michaels Organization, adding that Purcell stands out among his peers for his skill, knowledge, and expertise but primarily for his integrity.
"No one in our industry has more integrity or is more trusted than Joe Purcell," O'Donnell said.
This is the third time Purcell has been named a CFO of the Year by leading regional publications. In 2010, Mr. Purcell was named one of the "Top Ten CFOs" in the Mid-Atlantic Region by Smart CXO Magazine and in 2011 was named the "CFO of the Year" by NJBiz, New Jersey's leading business publication.
About the Michaels Organization
The Michaels Organization is a family of eight integrated but independent companies dedicated to excellence in affordable, mixed-income, military, and student housing. Serving more than 100,000 residents in 360 communities across 34 states, D.C., and the U.S. Virgin Islands and with a development portfolio valued in excess of $ 3.5 billion, The Michaels Organization is a national leader in the residential real estate industry, with full service capabilities in development, property and asset management, construction, mortgage finance, and tax credit syndication.