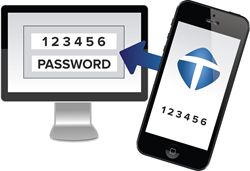 Our new partner program puts easy-to-deploy and affordable security into the hands of any ISV, large or small.
Olympia, WA (PRWEB) July 14, 2014
Townsend Security, a leading authority in data privacy solutions, today announced its new IBM i (AS/400, iSeries) Two Factor Authentication Partner Program for Independent Software Vendors (ISVs). As security threats evolve and make passwords ineffective for system and application control, software providers struggle to modernize their applications and implement two factor authentication (2FA). Townsend Security's partner program now makes it easy for ISVs on the IBM i platform to rapidly implement 2FA to secure their applications and meet compliance regulations.
Based on mobile and voice authentication, there is no need to deploy expensive hardware servers or to purchase and distribute hardware tokens or smart cards. Townsend Security's authentication solution leverages the existing mobile phone and voice phone capabilities that all users have at their fingertips. Global delivery of SMS text and voice authentication codes leverages the Telesign network and supports over 120 countries and 90 languages. Deployment of Townsend's two factor authentication solution takes just minutes and immediately secures the IBM i server and ISV applications.
Townsend Security partners quickly achieve security gains in these areas with two factor authentication:

IBM i User logon control
IBM i Application control using 2FA application program interfaces (APIs)
One time codes when mobile or voice services are not available
Global network for SMS text and voice delivery
Intelligent re-authentication when device or IP address changes
User defined authentication periods (every access, daily, user interval)
Security audit journal logging for all 2FA successes and failures
Automatic signon and optional profile disable on 2FA failure
"IBM i ISVs are struggling to keep up with the evolving security threat landscape. As the Target data breach demonstrated, the loss of user logon credentials can lead to catastrophic security breaches," said Patrick Townsend, CEO of Townsend Security.
"Two Factor Authentication is an effective way to minimize this threat. Our new partner program puts easy-to-deploy and affordable security into the hands of any ISV, large or small. With no expensive servers to deploy, and backed by the Telesign global network, any ISV can now get user authentication security right. It's fast, easy, and affordable and you can even embed it right into your business applications," continued Townsend.
IBM i ISVs can join Townsend Security's Partner Program for Independent Software Vendors (ISVs) to evaluate two factor authentication and learn how easily they can improve the security of their offerings.
---
About Townsend Security
Townsend Security creates data privacy solutions that help organizations meet evolving compliance requirements and mitigate the risk of data breaches and cyber-attacks. Over 3,000 companies worldwide trust Townsend Security's NIST-validated and FIPS 140-2 compliant solutions to meet requirements in PCI DSS, HIPAA/HITECH, FISMA, GLBA/FFIEC, DIACAP, SOX, and other regulatory compliance requirements. Learn more at http://www.townsendsecurity.com.
###
Luke Probasco
Townsend Security
P: 360.359.4400
F: 360.357.9047
luke.probasco(at)townsendsecurity(dot)com
http://www.townsendsecurity.com