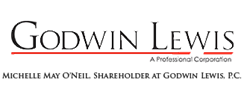 Dallas, TX (PRWEB) July 10, 2014
On July 9, 2014, a blog post written by Dallas Divorce Attorney Michelle May O'Neil, Shareholder at Godwin Lewis, P.C., was included in LexBlog's "Top 10 in Law Blogs" list. Attorney O'Neil's post that was featured was titled "Strategy in Asset Divisions - Do's and Don'ts." It was posted on July 9. Her post discussed the various steps divorcing spouses should take and avoid when they are considering asset liquidation as part of the divorce process. Ms. O'Neil is a board-certified family law specialist who draws from more than 20 years of experience in her practice area.
According to LexBlog, Internet networking authority Kevin O'Keefe and his team use LexBlog to help attorneys learn how to build important professional relationships and effectively market themselves through blogging, social media and social networking. LexBlog's "Top 10 in Law Blogs" regularly features the posts of attorneys who have used their blog space in a meaningful way.
In Attorney O'Neil's featured blog post, she explained how divorcing spouses need to look beyond the mere dollar-values of assets when they are getting divorced and entering into the property division stage. She noted that the spouses should consider their personal circumstances, including their short-term and long-term financial needs. They will need to think about factors such as their retirement needs and tax consequences, she wrote. To illustrate her point, Attorney O'Neil cited a CNBC article written by Deborah Nason ("Not always a rose: Avoiding thorny asset-liquidation issues in divorce," published on June 14, 2014.) Attorney O'Neil shared Ms. Nason's valuable Do's and Don'ts. The Do's addressed the information that spouses should know before liquidating assets, such as the cost basis of investable assets, the capital gain that will occur from a home sale, the true valuation of a business, etc. The Don'ts warned of common liquidation mistakes, such as the mistake of liquidating 401(k) when this can be avoided, the mistake of overlooking certain capital gain factors, etc.
Attorney O'Neil is admitted to practice law in Texas and in the U.S. Supreme Court. She received her board certification in family law from the Texas Board of Legal Specialization in 1997 and has kept that certification ever since. Ms. O'Neil has been recognized as a leading attorney within the legal community on numerous occasions. She was named to the Texas Super Lawyers® list from 2011 through 2013, she been named in multiple editions of Who's Who in America and Who's Who in American Law, she was given the title of "Best Lawyer in Park Cities/North Dallas" by Living Magazine in 2013, and the list goes on. Ms. O'Neil provides excellent counsel to individuals and families who are undergoing the process of divorce and dealing with many other family law mattes. Additional information about Attorney O'Neil and her family practice is available at http://www.oneilattorneys.com.